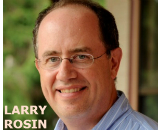 This guest column is contributed by Larry Rosin, President of Edison Research.
---
Close your eyes for a moment and imagine the cartoon image of a telephone on a desk jumping back and forth as it rings out of control.  That's a description of the level of activity at Edison Research in just the last several months related to the advent of the "Smart Speaker" phenomenon.  Since the introduction of the Amazon Echo in 2015, followed by further products from Amazon and the Google Home, we have been inundated with inquiries about these items.
We put out our first estimates on the uptake of 'Smart Speakers' in our annual Infinite Dial report in March.  As of early this year, we estimated that 7% of U.S. households already had at least one of these artificial intelligence machines.  In just the few months since then, these numbers have surely grown.
Edison now can announce our first "Share of Ear®" findings on these speakers.  We had a Smart Speaker as an option for the first time in our initial release for 2017.  Bearing in mind that "Share of Ear" is based on a one-day diary, we found that about 3% of Americans consumed some form of audio via smart speaker on their diary day in April of this year, and about 0.6% of all audio consumption is already happening on Alexa-enabled or Google Home devices.  These numbers will be quite interesting to follow over time, now with Apple and others announcing their entries into this suddenly red-hot category.
We are now incredibly excited to bring to the market the first of what we expect to be many bespoke studies entirely about this trend, the "The Smart Audio Report from NPR and Edison Research" — a product of cooperation between NPR and Edison Research.  We will be presenting the initial findings from this study at the RAIN Podcast Business Summit on Wednesday June 21, 9am – 1pm in New York's AXA Auditorium. Register here for the Podcast Business Summit.
As usual, we will be presenting survey results from a large-scale study that NPR and Edison engaged in, that includes a deep look at both the 7% of Americans who already have these devices in their homes, and also the 93% who do not.  And some of the findings are kind of amazing.  For instance, 70% of those in Smart Speaker homes say they are listening to more audio at home since acquiring their speaker, and 65% of owners say that they would not want to go back to their life before getting one of these devices.  Plus, we can look at the awareness of these devices among non-users and get a glimpse of the demand for them going forward.  We will be revealing many findings about the attitudes of Smart Speakers toward the devices and the content they access from them.
But here's an extra enticement to attend the RAIN Summit – in addition to the survey the Edison team traveled the country to interview Smart Speaker owners in their homes.  This is almost assuredly the first publicly-seen ethnographic research where 'real people' talk about the impact these devices are having on their lives.  I've seen these videos, and they are amazing.
Over the next weeks we will be revealing much more information from these studies starting with a webinar on Wednesday, June 28 th at 2:00pm ET. Register for our webinar here. Join us for a peek in to Smart Speaker owners' homes and a look at never-before seen data.
Thanks to NPR for funding this research…and thanks to everyone else for all of the phone calls!
---