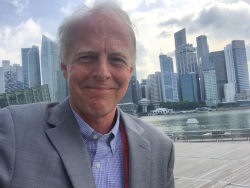 My memories of Singapore when I last visited about 15 years ago are of a city that was a mix of the best of Honolulu and the best of modern Manhattan. But I was not prepared for a city that seems to have tripled in size and sophistication since then!
At any rate, as you may know, one of the best-known attractions of Singapore was, and is, what are called "hawker centres" — each of which is a giant collection of dozens of small food booths, each booth owned by a different entrepreneur and offering a specific speciality, but utilizing shared infrastructure (seating, dishes and silverware, etc.).
On Wednesday, looking for a good place to fine-tine the BroadcastAsia2015 radio conference keynote speech I was scheduled to give on Thursday, I sat in the lobby of the hotel that I found on Booking.com (Park Regis) checked Yelp for the highest-rated hawker centre (Maxwell Food Centre), and called for an UberX to take me there.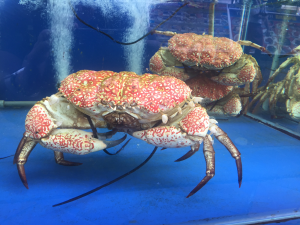 And while I was enjoying my Hainanese chicken & rice from one vendor paired with a watermelon-banana juice from another, I was struck by this thought:
While a six-foot-by-six-foot-booth specializing in a "long-tail" food item like, say, fish head soup, is probably going to have a rough go of it as a standalone venture, if it's part of a location that's known for having EVERYTHING, that's a different story entirely!
To bring this back to online radio, about eight or ten years ago, Bonneville tried launching an Internet radio brand of vocal-based classical music aimed at the Washington, DC market.
That was the equivalent of a standalone booth offering a specific regional style of dumpling soup. Too narrow to work. (And it didn't.)
Yes, Pandora and I Heart and Slacker and AccuRadio and your own multi-genre brand of online radio, if you have one, all ought to at least one channel devoted to vocal-based classical music. (And also '50s Broadway, St. Louis-based indie rock, barbershop quartets, Cantonese pop, space-age bachelor-pad lounge music, and more.)
But it will only work, I believe, when it's part of a much bigger context. Housed within a large and popular hawker centre (figuratively speaking), it can work.