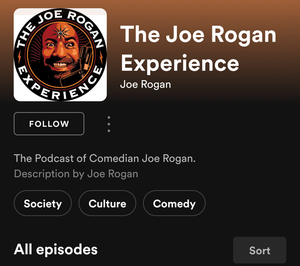 As reported, The Joe Rogan Experience — the world's most successful podcast by many measures — has landed in the Spotify app. Thus marks the start of this well publicized exclusive distribution deal.
Except … not exclusive yet. We are still able to play Rogan in other podcast apps. That's not totally unexpected; the publicized deal details did note that episodes would persist for some amount of time before lowering the gate.
There's another peculiarity, though: Not all the episodes have made it into Spotify, according to reports. Entertainment Weekly (among others) reports that the "most controversial" shows are no-shows in Spotify. They include interviews with conspiracy theorists Alex Jones and David Seaman, and "far-right figures such as Owen Benjamin, Stefan Molyneux, Milo Yiannopoulos, Gavin McInnes, Charles C. Johnson, and Sargon of Akkad." An interview with legendary pothead and comedian Tommy Chong is also MIA. 
When Joe Rogan announced the deal in a public video, he said: "…the entire JRE library will be available on Spotify."
Industry observers are speculating about Spotify drawing a line — e.g. the headline of today's Podnews newsletter: "Censored? Joe Rogan Experience is missing episodes on Spotify." It would be interesting to hear a comment from Spotify, or Rogan, or both. Lacking that, an assumption might be established that Spotify controls Rogan's guest selection, or discussion content.
---