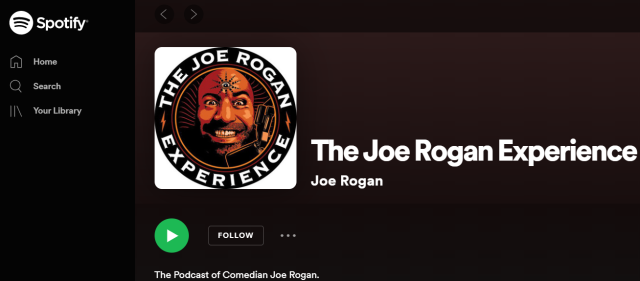 If there would ever been an indicator of podcastings' maturity as a media category, or a podcaster emerging as a media mogul, it is today' blockbuster news that Joe Rogan has signed an exclusive arrangement with Spotify, worth $100-million. It's not just the deal and the money. It's that the industry coverage stretches across the mainstream in USA Today, Forbes, The  Wall  Street Journal, South China Morning Post, FOX News, Engadget, POP Culture — on and on.
Joe Rogan has enjoyed the informal attribution as the world's most successful podcaster, supported by only the most general understanding of his audience reach and advertising income, plus consistent presence at or near the top of every podcast popularity chart.
Except Spotify's, because the show has been glaringly absent from that world-spanning audio platform. Going forward it will be glaringly present, and it will exist nowhere else.
Exclusivity Details
It is a multi-year deal, length unknown. The show (formally, The Joe Rogan Experience) will remain free to all Spotify users, not just the Premium subscribers. The video portion (which was launched in 2009 on YouTube) will be included — Spotify calls video podcasts "vodcasts."
Spotify says: "Bringing the JRE to Spotify will mean that the platform's more than 286 million active users will have access to one of culture's leading voices. By partnering with Spotify, Rogan and his team will enjoy the support of the world's leading audio platform."
Spotify also says: "This partnership represents a major addition to the already unrivaled slate of exclusive audio content available to audiences on Spotify" — possibly throwing a bit of shade on Luminary's exclusivity model, though Spotify really doesn't need to.
The deal starts September 1. On that date JRE will appear in Spotify, while remaining for a bit everywhere else. By the start of 2021, Spotify will be the only app where Rogan's new shows and entire library — currently 1,647 episodes in Google Podcasts — will be located.
The Get
This is a huge get for Spotify. The biggest by far in the podcast sphere. Rogan has 8.4-million followers on his YouTube edition of the podcast. Spotify has 286-million active users. Whatever non-duplication exists in those two audiences will potentially fuel Spotify's audience growth. Rogan has claimed 190-million downloads in a month.
This is basically an M&A play — consider the $100-million of this deal against the $330-million reportedly paid for the Gimlet network and Anchor's network-plus-tech. The potential audience growth represented by Rogan alone is certainly part of the company's acquisition equation.
The flip side is that it's a bet by Rogan, too. That bet certainly contains some amount of loss. Not all of those 8.4-million YouTube subscribers, and all his audio-only listeners, will migrate to Spotify. Presumably, only a fraction will. It seems unquestionable that Rogan will lose some amount of listenership and influence, even as his compensation presumably stays steady. (We don't know whether Rogan will retain any percentage of ad revenue in the deal.)
Audience Reactions
Not uniformly great, looking at Apple reviews of the last 24 hours. The show's overall rating (4.7 stars as of this post) has always been shaped by extremes — listeners who dislike a single episode pile in with 1-star criticisms. That is currently happening with responses to the Spotify announcement ("Spotify, really?" and "Joe is a sellout"), mixed in with 5-star congratulations ("Congratulations on Spotify Joe, nobody deserves it more brother").
There is no economic difference in JRE's move to Spotify — it will remain free on a universally available app. But people's habits die hard.
.