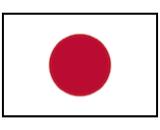 Japan's recorded music industry declined by about 4.5% last year to approximately 297.5 billion yen (€2.2 billion), according to initial data from the RIAJ. It's the first time the nation's music market has fallen under 300 billion yen since the group has collected information. The country also posted a drop of 15% in 2013 for its music industry, and has allegedly fallen 38% in value since 2004.
Subscription streaming platforms generated 5.6 billion yen (€40 million) last year, tripling the amount those services generated in 2013. That's projected to be just 3% of the entire market income for the country's music industry.
The industry-wide sales total incorporate some unusual formats that have fallen far out of favor for U.S. listeners, such as ringtones, DVDs, and Blu-Rays. Japan has been a challenging market for streaming and online music companies, as many listeners have preferred to stick with CDs.
Sales of CDs generated 184.1 billion yen (€1.37 billion) last year, a small decline of about 6% from 2013. Despite the large share still held by physical formats, 2014 revealed some respectable growth for digital music platforms. All digital sales in 2014 totaled 32.5 billion Yen (€240 million), marking a 3% increase from the year prior.