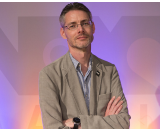 James Cridland, radio futurologist, is a conference speaker, writer and consultant. He runs the media information website media.info and helps organise the yearly Next Radio conference. He also publishes podnews.net, a daily briefing on podcasting and on-demand, and writes a weekly international radio trends newsletter, at james.crid.land.
---
Very impressive to see LBC doing vision as well as audio for the coverage of the UK General Election. Here's a best-of reel, to save you watching the whole slightly depressing eight hours. A clever piece of positioning from LBC to communicate that they were just as important as the BBC and ITV over the election – and I saw very high figures online when I was tuning in. A really very good production from all concerned. (Clever use of Facetime with the reporters out at the counts).
Indeed, I noticed that people could watch ITV, Sky News and LBC (and many other international broadcasters) live on a variety of platforms including YouTube, Facebook and Twitter – reaching people on the platforms they use. As far as I can see, the BBC decided to force people to their own platforms. When will the UK public service broadcaster start serving the UK public?
Interesting to note that everyone on LBC was wearing small TV-friendly microphones and hidden earpieces, except those in the radio studio. I wonder whether next time, the big headphones, at the very least, will disappear? (Although hopefully "next time" will be in five years).
Even more impressive, I think, are the plans for Alfred, a new community radio station in Shaftesbury in England. This is a beautifully crafted community radio licence application. An ambitious and truly different radio station, and exactly right for 2020. It contains no music at all (quite rightly, since music is now a commodity you can get everywhere, and the average listener in Shaftesbury will be able to get many, many music radio stations in any case). It's a really good read, and I'd recommend it to anyone as a really clear guide to where the future of radio might be going.
Absolute Radio put a cleverly edited video on Twitter highlighting their breakfast show guests this year. Nicely done.
Excepting the excellent, handsome if slightly over-shouty voiceover, take a listen to this clip from 1989 – it couldn't be any more embarrassing and old-fashioned!
The power of audio. What a beautiful story this is. How utterly lovely.
WBUR is looking at the future of radio. With an orange. Intricate flashback to late 1980s advertising for a UK mobile phone network?
You know that General Election exit poll that got it pretty well spot on? Spookily… UK radio research is worked out in quite a similar way.
Multi-platform radio listening in France, anyone? Interestingly low – just 13% listen on a digital platform. The absence of a properly national DAB+ network is probably partly the reason.