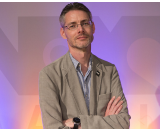 James Cridland, radio futurologist, is a conference speaker, writer and consultant. He runs the media information website media.info and helps organise the yearly Next Radio conference. He also publishes podnews.net, a daily briefing on podcasting and on-demand, and writes a weekly international radio trends newsletter, at james.crid.land
Happy holidays. I'm in the middle of Australia's strange six-week radio self-mutilation process where I don't recognise a single voice on-air and everything comes from thousands of miles away (for the elderly, it must feel like all your friends have left you). I spent Christmas morning on ABC Local Radio, above, being interviewed about smart speakers.

Thank you to Rupert Brun, Barrie Stephenson, Cleanfeed and Richard Hilton for your continued support.
Podjobs
What I'm up to
I am speaking at the European Radio Show in Paris, France, on 24 January
I am speaking at Podcast Movement Evolutions, in LA, in February.
I'm a writer, consultant, and an amazingly brilliant keynote speaker for your radio conference, setting an innovative and optimistic feel for your event by sharing how radio is changing round the world – in terms of consumption, production and promotion. If I can help you, or your business, please do get in touch, by simply hitting 'reply'.