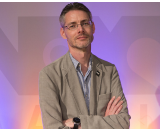 James Cridland, radio futurologist, is a conference speaker, writer and consultant. He runs the media information website media.info and helps organise the yearly Next Radio conference. He also publishes podnews.net, a daily briefing on podcasting and on-demand, and writes a weekly international radio trends newsletter, at james.crid.land.
---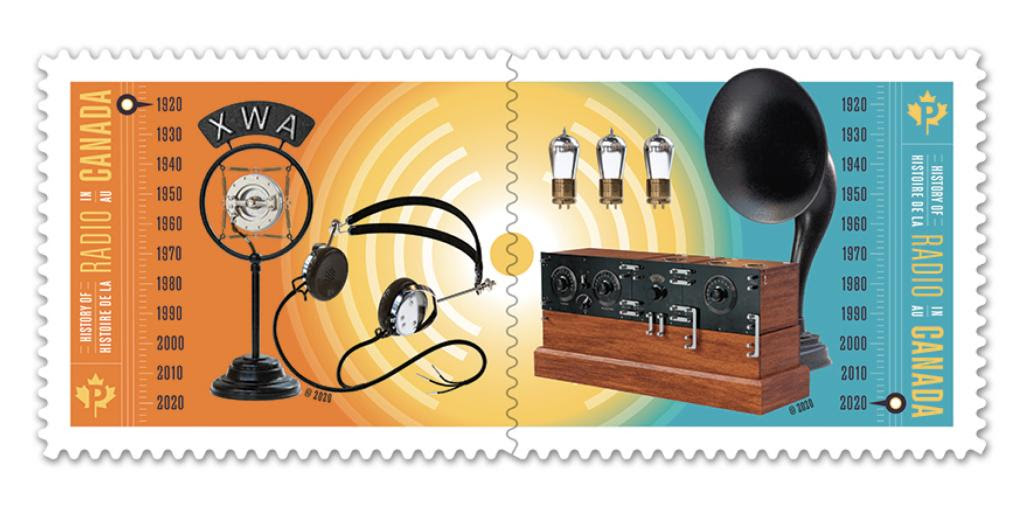 Above: a new stamp in Canada, celebrating 100 years of radio! – via Richard Hilton
Tim Davie has been appointed the new BBC Director General ("the boss", in other words). This is good news.
I was at the BBC when Tim moved from being head of Marketing to Director of Radio: he did more than anyone else to work together with the rest of the radio industry, particularly bringing the commercial radio sector together to launch Radioplayer, as well as pushing DAB through. I found him someone who listened, and who had a clear audience focus. He knew which battles to fight, too. I also found him rather more aggressive and impatient than many of his colleagues; but those traits will be of use in defending a BBC that has allowed itself to be pushed around too much by successive Conservative governments. In this setting, his murky past as a deputy chair of the Hammersmith and Fulham Conservatives is an asset, rather than a liability.
He's got a helpful past – while working at Pepsi for marketing, he worked on the deal to sponsor the Pepsi Chart on commercial radio. Besides a strong understanding of marketing, he understands radio well; and his work at BBC Studios, the corporation's commercial arm, means he has a strong understanding of how to use BBC assets overseas and commercially within the UK. Of note: he earnt £600,000 last year at BBC Studios, including a bonus. To do the Director General's job, he's agreed a pay cut to £425,000; after mid-2021 he'll be entitled to £525,000, but no bonuses for good behaviour. He isn't in this for the money.
---
In Sydney, Alan Jones retired from his daily 2GB/4BC breakfast show](https://www.abc.net.au/news/2020-05-12/alan-jones-retires-from-radio/12237330). In recent years, his views had been widely criticised: last year he advised the current Australian PM, Scott Morrison, to "shove a sock down the throat" of NZ PM Jacinda Ardern, since Ardern held a more progressive view on climate change than Jones. Advertisers withdrew from the station after that. Professionally, he's an inspiration: a high-quality broadcaster who produced a consistent product and was #1 in Sydney, one of the world's toughest radio markets, for many years. However, Australia is better for not having this poisonous toad share his thoughts on-air.
2GB and 4BC had been simulcasting all programmes, so in Brisbane, we got Alan Jones as well. (He's a Queenslander, having gone to school in Toowoomba and taught at Brisbane Grammar and the University of Queensland). Nevertheless, the radio station's owners Nine have rather pleasingly, and unexpectedly, invested in Brisbane. 2GB in Sydney got Ben Fordham as Jones's replacement, who has been doing the afternoon drive show on 2GB for a number of years; 4BC got Neil "Breenie" Breen, who has had a good debut week with almost every big hitter from the city on the air: every one noting "it's great to have local programming again". Breenie's been a good, if very on-brand, listen. It'll be interesting to discover if, in the summer months, we have to listen to Ray Hadley from 8am.
Of note, and a clever thing: the news and sport sponsors for 4BC must have pulled their spend during the coronavirus, but the station filled those sponsor credits by "sponsoring" it themselves – with a sponsor credit for the 4BC website instead, promoting registration and listen-again. Clever. However, the 4BC website's featured shows section doesn't actually feature their new breakfast show yet…
---
During the coronavirus pandemic, we've heard a lot of radio companies and pressure groups claiming that radio listening was strong and had "increased" during lockdown – in my last newsletter, I noted Radiocentre saying "38% of commercial radio listeners are tuning in for an extra hour and 45 minutes each day since lockdown", a quote which is impressively oblique. Still, the real figures came out in the US, and RadioInsight describe them, accurately, by saying that they "plummeted": total audience "for many stations dropped up to 40% from where it was in February". But, we needn't worry. Pierre Bouvard at Westwood One, who's a master at helping us understand the figures, says we're all doing brilliantly, and quotes some helpful numbers to put all this in context.
Steven Goldstein suggests that the rist of podcasts and smart speakers is an opportunity for radio stations to "cast a wider lens and think beyond simply checking-the-box and shoving their current content on to other platforms", arguing that "Many radio stations have great but buried assets. They now have new tools to liberate them."
---
In the UK, Bauer Media bought a bunch of radio stations last year (56 FM licences), and after a short and ultimately pointless bit of regulatory posturing from the Competition and Markets Authority, the company announced that it is to turn almost all of them into Greatest Hits Radio, an oldies service. Listeners will get local news, travel and weather at what the company calls a "local multiplex level" – a larger region than the stations currently cover.
Four stations – including the first commercial station I ever heard (Signal) and the first I worked on (Pulse) will be turned into Hits Radio, a CHR service. They'll retain breakfast shows and their current names. (Good job it isn't called The Pulse of West Yorkshire any more, since The Pulse of West Yorkshire For Four Hours A Day But The Rest From Manchester isn't quite as catchy).
Confusingly, Bauer will keep Lincs FM and Pirate FM untouched. I'd say that this suggests a lack of faith in their strategy, but I've struggled with what Bauer's strategy actually is for a while.
200 on-air jobs will go; along with many local managers, programmers and engineering roles.
This was, of course, inevitable. The size of some of the stations that Bauer have bought were simply too small to sustain – and many were already being networked in some form. Today's world is a very different one to when these stations were set up: a typical listener has 38 radio stations available to them through their DAB+ radio, rather than the five or six that they had access to when local radio was being rolled out. And, of course, there's 1.1m podcasts, Spotify or Apple Music, and everything else that audiences can choose.
Having moved away from the UK, and having worked in Canada and Australia, the UK is a tiny place. The UK radio market is similar, in both geographical size and revenue, to Southern California. It helps to view these changes through that lens. It's desperately sad for the people involved; but it's an unfortunate and inevitable consequence of change.
Production company Devaweb have stepped up to offer a free service to polish and produce a great-sounding showreel for those affected. Good for them.
Elsewhere, on April 2, the largest magazine company in New Zealand closed down, suddenly and without warning; and on April 29, one of the largest magazine companies in Australia has suspended many of their magazines and made 70 people redundant. Their name? Bauer Media Group.
---
The UK saw its RAJAR figures out, which were mostly compiled pre-coronavirus. Perceptive pieces from David Lloyd, and the newly-moustached Matt Deegan help put the numbers into context.
Meanwhile, buried in a press release, an interesting stat from the BBC's radio-music-podcasts app, BBC Sounds: 55% of listener plays are to live content. The app, whenever I see screenshots of it (it's unavailable to us foreigners), has always seemed to be especially keen to promote its on-demand content.
---
What I'm up to
(I'm not planning to go anywhere!) I'm a writer, consultant, and an amazingly brilliant keynote speaker for your radio conference, setting an innovative and optimistic feel for your event by sharing how radio is changing round the world – in terms of consumption, production and promotion. If I can help you, or your business, please do get in touch.