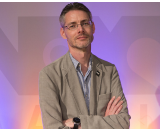 James Cridland, radio futurologist, is a conference speaker, writer and consultant. He runs the media information website media.info and helps organise the yearly Next Radio conference. He also publishes podnews.net, a daily briefing on podcasting and on-demand, and writes a weekly international radio trends newsletter, at james.crid.land.
---
It's been an interesting few months, hasn't it? Back in October, Spotify launched a system where you can record your own music shows. It essentially produces a playlist of a host saying stuff, with some tracks, which play in full with a Spotify Premium account.

Initially, I thought to myself that if I wanted to hear badly-configured voicetracking I could just listen to the radio, but what's been interesting is hearing some uses to which it's been put.

Edison Research's Tom Webster, who's consulted for enough radio stations in his life to know how it all works, has been making some rather good shows called Deep Six – writing it up in the process. He's annoyingly good at it, and annoyingly has the deep American voice that makes it all work – with a good microphone, some background music for his presenter breaks/links, and a polished sound.

But then there's the much less produced Walk The Pod, with comedian Rachel Wheeley. Seemingly recorded for her friends and family, she pops out for a walk, talks, and plays songs. It's a very intimate thing, recorded presumably on a mobile phone while wandering around South West London, and including audio clips from listeners. Unlike Tom's polished shows, it's not something that would ever make its way onto the radio – but perhaps that's why it's so different.

Is it the future of radio? Hmm. It's quite refreshing to give different voices access to the air – something, with Australia's vibrant community radio scene, is rather more prevalent here than the UK. And it's quite nice to be able to skip the presenter talking, if you so wish. I define radio as a "shared experience and a human connection", and it ticks most of the boxes there, too.
---
A bunch of interesting new radio stations have launched, too.
Soundcloud Radio launched on DAB+ in Australia in August. I assume that the station is being advertised on Soundcloud itself, though I only discovered it this month.
Boom Radio is to launch in the UK. A radio station aimed at an age-group that UK radio has essentially forgotten about – the over 65s. It's being run by two titans in the radio industry. Just like Soundcloud Radio, it's a new format that hasn't existed on the radio, and new platforms have the space to allow it to breathe. Also, from the sounds of it, it'll be a radio station without any studios – with programmes coming from presenters' homes, rather than an expensive padded room somewhere. Matt Deegan writes more.
There are also a lot of local online stations popping up all over the UK, as a reaction to Bauer's closure of most of the remaining local radio services. West Yorkshire Radio, from my old patch, is a good example of this – some good heritage names who listeners should recognise. The question is whether online-only services like this can attract the kind of audiences they need, given that it'll be difficult to get onto DAB+ in the county.
Talking of West Yorkshire radio, all of a sudden BBC Radio Bradford popped up on the air. Bradford's never really been very well served by BBC Local Radio, but they have their own station now: BBC Radio Bradford has two regular shows between 6am and 2pm. However, it seems to have been done without any thought about how people are going to hear it. It's only available on the ailing AM band, and has no DAB coverage nor any other outlet. It doesn't exist in BBC Sounds, the BBC's radio app, either. It doesn't even have a "radio" website – with a two-page events template thrown hurriedly together . As someone who used to live in Bradford, the city is a bit bored of perpetually living in the shadow of Leeds – so I look forward to the BBC doing this properly at some point.
---
More news about radio for old folk – a heritage oldies station in Sydney, 2CH, turned off AM and switched over to DAB+ completely. They retained 50% of their audience. Not bad.
I spoke at the WorldDAB General Assembly – asking what type of radio we should make in the future: especially for younger audiences. I very much enjoyed putting this together.
I spoke at a webinar for South African software company Fabrik, and this was a nice writeup of the event.
I also spoke in Finland about radio's bright future, as a guest of Radiomedia. I learnt, as I think I always learn in Finland, that everyone's much more fashionable in that country than I'll ever be.
Interesting for the geeks reading this – the BBC is now using serverless AWS for its website architecture. The whole thing is running through Lambda. Seems a brave move to me!
(On the above – livenow·news is my little plaything – it uses Lambda to query YouTube every half hour, and is statically hosted. Live TV news channels, with a hopefully decent user interface.)
In any case, I look forward to waving goodbye to 2020, and to whatever 2021 has to give us. It can't be as bad as this year, surely?
---
What I'm up to
I'm a writer, consultant, and an amazingly brilliant keynote speaker for your radio conference, setting an innovative and optimistic feel for your event by sharing how radio is changing round the world – in terms of consumption, production and promotion. If I can help you, or your business, please do get in touch, by simply hitting 'reply'.