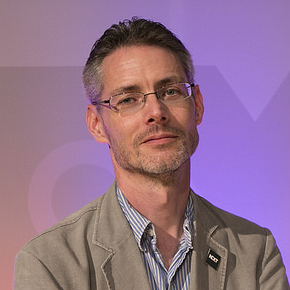 James Cridland, radio futurologist, is a conference speaker, writer and consultant. He runs the media information website media.info and helps organise the yearly Next Radio conference. He also publishes podnews.net, a daily briefing on podcasting and on-demand, and writes a weekly international radio trends newsletter, at james.crid.land.
---
Some really good research in favour of broadcast radio's place in the car came out this week. A piece of very good research, funded by a number of different organisations and compiled using data from Australia, France, Germany, Italy, the UK and the USA.
80% say "radio provides a better listening experience in the car than other types of audio sources", and 89% of people want a radio in their car (although 85% want Bluetooth).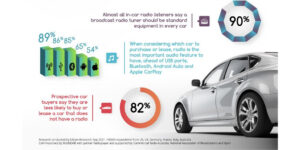 89% of car buyers in these countries say they have listened to radio in the last week. (I did ask for breakdowns for each country, but didn't get very far with that).
I had a fractious discussion over pizza last week with a man who couldn't believe that anyone listened to the radio these days, and especially not in the car. This data would seem to show that, for the majority, radio and cars go together like fish and chips, pretzels and beer, or Bunnings and sausage sizzles. It's good to see it – and it's the sort of data that all of radio should be working together to produce. Bravo.
---
Some big radio consolidation in Australia: ARN (which owns 13 stations, and some of the biggest stations in the capital cities) has acquired Grant Broadcasters (which owns 46 radio stations outside them). They spent US $225m on the deal.
In my home city, Brisbane, ARN owns FM station 97.3 (Hot AC) and AM'er 4KQ (gold), and both are regularly top 3 stations. However, because Grant's River 94.9 and Hot 91.1 have substantial overlaps into the Brisbane radio area, ARN have hit an ownership cap: and instead of simply not buying River/Hot, they've decided to sell Brisbane's 4KQ. 4KQ is currently #2 in the market and a bigger station than 97.3, with a total market share of 11.3%; so I was confused why they'd want to sell it – but when you look at the audience breakdown, it's pretty obvious why 4KQ has been chosen to jettison: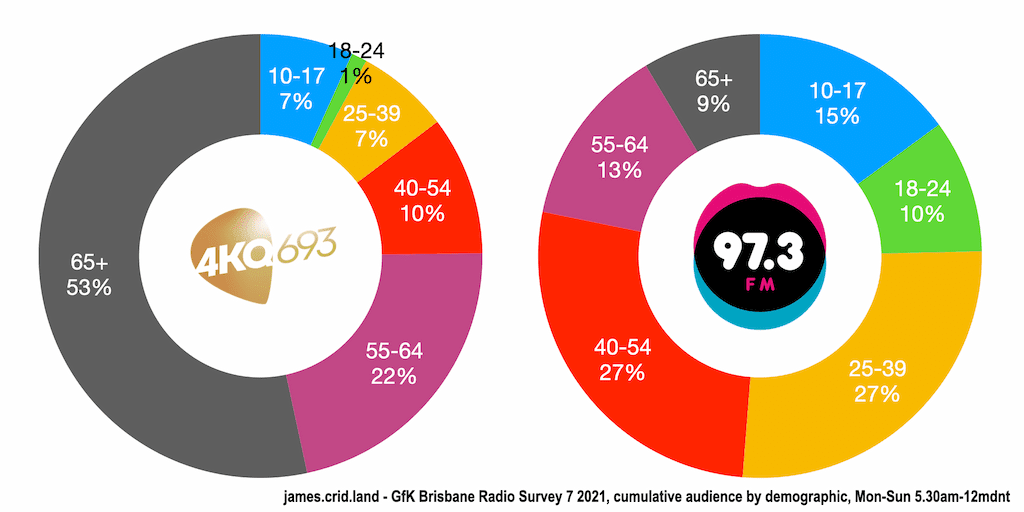 …not to put it too indelicately, but 4KQ's listeners probably don't have a massive future. It's a great station, but the low amount of 45-54 listeners would tend to suggest that this is a problem station in the long-term: there doesn't appear to have been a replenisher plan here.
Ace Radio would have been the obvious contender to buy 4KQ; but they've just been appointed as the operators of the 4BH licence, which is a similar format. Operate a station for free (in return for cash), or dig deep for a costly, but flawed, AM licence?
Of interest to those in the UK: "Regulator ACMA will consider this acquisition a 'trigger event' which will require the new owner of the stations to keep staffing at the same levels as it is today for two years." – just imagine that!
One of the slightly unusual things about Australian radio is that regional broadcasters take content from their larger competitors: Grant stations take some content from SCA, which ARN will quickly jettison, and some speech content from Nine Radio, which ARN don't have an adequate replacement for quite yet.
ARN also get a radio sales house, The Radio Sales Network, as part of the deal (that represents 122 stations in total); and unlike the UK, the sale includes the transmission equipment, too.
---
I'm a guest on Saturday Morning on RNZ next weekend (which for most of us would be better called Friday Night). I'm being interviewed by Kim Hill, who is, according to her biography, "unquestionably one of New Zealand's finest current affairs interviewers". It's a piece that'll last half an hour, I'm told, and I've already had two pre-interviews for it, so imagine how nervous that's already made me. You'll be able to listen in online. I suspect the Frosties radio will make an appearance.
A note to other broadcasters that this disaggregated page of last weekend's Saturday Morning programme on RNZ is really very well done – every piece of the programme is available, with artwork and a clear description.
I'd invite you to compare that to Radio 4's Today Programme's same page, which consists of a play button, and mention of just three things: "sports desk", "weather" (hardly a draw for listen-again audiences) and "thought for the day", a three minute feature that only exists because nobody there has the gumption to get rid of it. Today doesn't even mention the word "news" in its billing, let alone what was actually on this programme.
Drill a little deeper, and its website has no explanation of what to expect from the programme. The main hero link on the website links to an episode from two months ago which is now so old it doesn't actually play, and, possibly most tellingly, only two items have been worthy of calling a 'highlight' in 2021.
This is BBC News's flagship programme on domestic radio; it's perplexing how unloved it is online.
Elsewhere
---
It's absolutely not (that) necessary, but if anyone wants to support my work in any way, you can BuyMeACoffee – become a member to give regularly or just give a one-off coffee if you'd like to support me in some way.
.