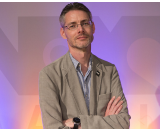 James Cridland, radio futurologist, is a conference speaker, writer and consultant. He runs the media information website media.info and helps organise the yearly Next Radio conference. He also publishes podnews.net, a daily briefing on podcasting and on-demand, and writes a weekly international radio trends newsletter, at james.crid.land.
---
We've just had the results of our first radio survey for a while. I thought it might be interesting to compare the pandemic-unaffected survey 1 (Jan 19 to Feb 29) with the new survey 6 (Jul 26 – Sep 19) – since we've something pretty unique in this country.
In Brisbane, where I write this, we're still affected by the pandemic but not that much – many people have returned, at least part-time, to the office. Shops, cinemas, cafés and other things are open again, if operating at low capacity.
In Melbourne, however, lockdown has been long and severe: with night curfews, no school, and only essential businesses being allowed to operate.
It's a tale of two markets, and offers a relatively interesting view into the effects of the pandemic on radio listening: two, otherwise identical, surveys.
The differences are stark.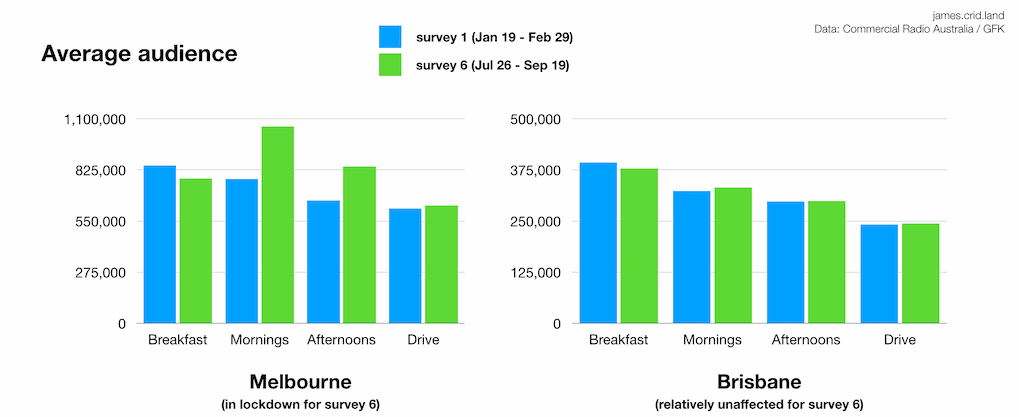 In lockdown Melbourne, breakfast is down slightly – but every other daypart is considerably up: with mornings achieving a 36% increase in listeners. Wow. (The latest pandemic numbers were announced in the mornings; but also, with the lack of a commute, people were perhaps up later.)
However, in unaffected Brisbane, there's almost no movement – 3% of the audience moved from breakfast to mornings.
There were, too, some pretty obvious changes in behaviour in terms of market share. I've split the share graph into "news/talk" and "music": virtually every single music station has dipped dramatically, and every single news service has increased. Interesting, this has happened everywhere.
Obviously part of this is "wanting to know what's going on", but it may also be related to the much larger amount of at-home listening, and availability of Spotify, Apple Music and others in that environment.
I've been suggesting for a while that intensive music radio's future is rather less rosy than one with human beings. It's interesting seeing it so starkly shown.
(For completeness: Triple J has a tent-pole event in January, the Hottest 100, which explains part of its fall; B105 was called Hit 105 in January with a slightly different music policy; 4BC added local programming and significant marketing for survey 8).
Fascinating.
Oh, and that's me done for now.
I'm beginning to be booked for speaking engagements again, which is good – though, less good, they mostly involve shouting at a computer screen at a strange hour of the early morning.
What I'm up to
Ah, remember travel? I'm a writer, consultant, and an amazingly brilliant keynote speaker for your radio conference, setting an innovative and optimistic feel for your event by sharing how radio is changing round the world – in terms of consumption, production and promotion. If I can help you, or your business, please do get in touch, by simply hitting 'reply'.