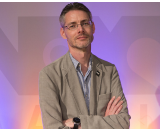 James Cridland, radio futurologist, is a conference speaker, writer and consultant. He runs the media information website media.info and helps organise the yearly Next Radio conference. He also publishes podnews.net, a daily briefing on podcasting and on-demand, and writes a weekly international radio trends newsletter, at james.crid.land.
---
I discovered a new radio station in the car earlier this week. I don't get into the car that often, but was driving to the University of Southern Queensland, where I was speaking to the students about radio's future.
The station was called "Australia Today", and because I don't read the radio trades as much as I used to, I hadn't heard of it. I listened at 7.00am to it for a bit: a talkback station (5 Live with more callers). Steve Price, 66, was broadcasting, a well-known announcer from other talkback stations.
11.30am, I got into the car again. Steve Price was on. He had a good number of calls and texts, and I listened for a bit before pulling into somewhere for some coffee and lunch.
1.25pm, I got into the car again. Surprisingly, Steve Price was still on, still taking calls. I listened a little more attentively, and realised that there were no timecalls/timechecks; or, indeed, any station IDs other than a jingle. Steve Price himself never identified the station; at one point he did tell one of his guests "as you know, we broadcast right across Australia", but that's as far as he got.
It turns out that this is a new digital talkback station from SCA, Australia's biggest commercial radio broadcaster. And it's bloody clever.
The absence of timechecks might be because Australia has a number of timezones, including some which are on the half-hour; and or perhaps because radio programmers appear to at last have woken up to the fact that we have many other devices with clocks on these days (not least, every computer or mobile screen, every car dashboard, and even a thing called a 'watch').
But the absence of timechecks might really be because the station's actually only live for three hours a day, 7am to 10am Sydney time. I'm told that the news bulletins continue to be updated for the rest of the day, but everything else is on repeat.
And why not? To take a three hour show and repeat it through the day, on a DAB+ channel, seems just fine. It was just as enjoyable at 1.30pm, after all. And the reason why that worked is the lack of timechecks and "good morning" mentions, which meant that the station didn't sound out of date. That small affordance in programming suddenly made the output work at whatever time of day or night you dip in. (As most listeners do).
The other reason for the lack of spoken station IDs might be a little more commercial.
Many SCA stations outside the cap cities take talkback programming from The Ray Hadley Morning Show. Hadley, 66, is a ratings winner; but the show is now owned by Nine Networks, a large competitor to SCA. It's probably not the worst strategy in the world to be building a talkback service of your own, to pipe into your own stations just in case. After all, Hadley can't go on forever, and nor can a relationship with one of your biggest competitors.
Clever move from SCA; and some clever programming to back it up.
Elsewhere…
.