James Cridland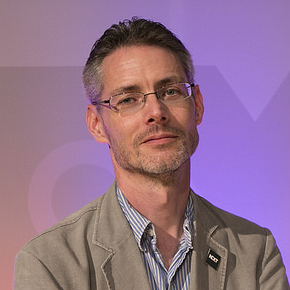 , radio futurologist, is a conference speaker, writer and consultant. He runs the media information website media.info and helps organise the yearly Next Radio conference. He also publishes podnews.net, a daily briefing on podcasting and on-demand, and writes a weekly international radio trends newsletter, at james.crid.land.
---
Above: it's the law if you run a classical radio station to put the "fm" into italics and use a serif-font to do so. As demonstrated here in Los Angeles.
It's been a busy few weeks, with my first international trip for two years, to Podcast Movement Evolutions in Los Angeles, where I was the warm-up man to Will Ferrell, astonishingly. (And I got a laugh).
But… greetings from my spare room, where I am currently isolating from the family after finally getting The Thing. I might have managed that on the journey back home, possibly. It's knocked me about quite badly for three days, and I'm only now catching up on things. Still, everyone gets it eventually, and the vaccine saved me from anything bad. Apart from not being able to leave my bed for three days, that is.
---
Radio from Ukraine continues to be made available elsewhere. Radio Ukraine (which is being taken by most Ukranian broadcasters) is also being broadcast on DAB+ in Czechia and Poland, and on TV networks too. There's also an English-translated version of the Ukranian 24-hour TV channel on Freeview in the UK (I'd love to know if that's available elsewhere).
A Ukranian-language website, The World of Radio, is doing an excellent job of monitoring radio stations in the country. The website works fine through Google Translate.
---
Last time, I noted the number of shortwave transmissions being restarted to aim at Ukraine, and wondered aloud whether we had any idea how many Ukranians owned a short-wave radio in the first place. I've had not one response about that, so I guess I can conclude that nobody knows.
I did also ask where I can get hold of a truly world radio – one that does AM/FM and SW as well as DAB+, DRM (and HD Radio). I got a lot of responses pointing me to shortwave radios: none of which were capable of DAB+ or HD.
Recommended analogue short-wave radios were from Tecsun and from C.Crane. There are some from Gospell and Chengdu NewStar which have DRM capability; but none that have DRM, and DAB+, and HD Radio.
An analogue AM/FM/SW radio, with access to HD, DAB and DRM, would be the only portable radio that would work everywhere. Travel to the US, and you'd get additional channels on AM and FM, thanks to HD; travel to Europe, and DAB would spring into life with hundreds of stations. DRM would cover better-quality international stations.
I know that there are chipsets capable of all of these: having taken apart a cheap portable DAB radio a few years ago, I noticed it had HD Radio branding inside, and a different version was offered from the chinese manufacturer with HD capability.
I can only assume that either licensing forbids DAB and DRM (or HD) being on the same unit, or that the benefit of one-unit-sells-everywhere is offset by additional licensing fees.
Or, perhaps, nobody wants one – as Ed said: "I don't know any manufacturer of the radio you seek, nor anyone else who would buy one." Ooof!
---
Interesting to spot that TalkTV, Rupert Murdoch's new TV channel which launches later this month, will take TalkRADIO's (on camera) output during daytime. Makes a lot of sense: radio is considerably more popular than TV for breakfast and daytime. Then, when evening comes, the tables are turned: TalkRADIO will rebroadcast the output of TalkTV, so Piers "Moron" Morgan's show will be heard on the radio, as well. Ostensibly, that's no different to GBNews, which broadcasts on DAB+ as well; but in this case, rather clever to focus resources on the medium that does best in each daypart. I only hope that this doesn't remove James Whale from the airwaves: I hope he broadcasts for as long as he's able to.
The question, of course, is whether "TalkTV" and "TalkRADIO" are the right names for these services, which will carry the same programming 24/7 (albeit one with better pictures than the other). We might hear it on-air being simply referred to as "Talk" within programming, just as Magic Radio is referred-to on-air as "Magic". All brands are multi-platform these days, after all.
---
.