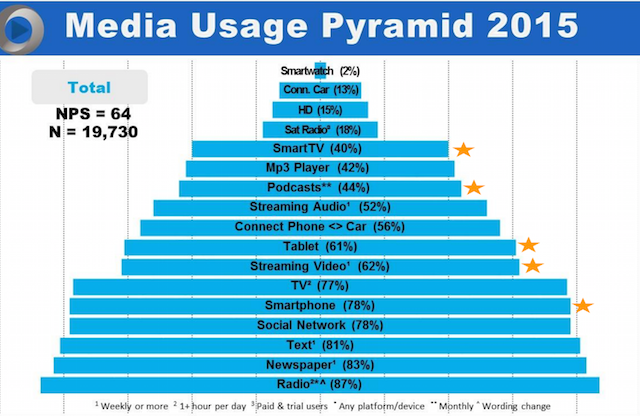 Jacobs Media and the Public Radio Program Directors conducted the seventh edition of its annual survey to learn more about the preferences of public radio listeners. Traditional radio held the top spot for media usage in the Public Radio Tech Survey 7, with 87% of the surveyed people listening at least an hour a day on any platform. Other top entertainment platforms were smartphones at 78%, streaming audio at 52%, and podcasts at 44%.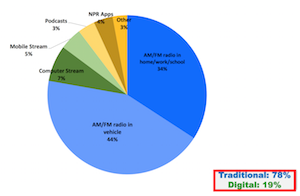 Among those respondents, public radio saw continued transitions to digital, with 19% of weekly usage happening on those channels. Computer streams accounted for 7%, mobile streams were 5%, NPR apps were 4%, and podcasts were 3%.
Along with the digital shifts, some listeners are also seeking out out on-demand content. Nearly a quarter agreed or strongly agreed that they listened to more public radio on demand. Millennial listeners were especially focused on this type of content, with 49% stating that they are looking for more on-demand. The NPR One app has also built a steady audience, with 35% of respondents who downloaded the app using it at least weekly. Again, Generation Y was the top user, with 38% of respondents at least weekly tuning in via the app. Interest in streaming as a whole has also grown over the course of the survey series, hitting a high of 52% of respondents streaming audio at least weekly from any source.
Despite the interest in new digital and mobile tools, the listeners still placed a high priority on traditional formats in their cars. For respondents in the market for a new car, 89% said AM/FM radio was very important. Connections for a smartphone or tablet came in a distant second with 60% of respondents.
The survey also asked about sustaining members and found that most skew younger. Nearly three-quarters of millennial members were sustainers, compared with 61% in Generation X and 54% of boomer members. As a whole, the public radio audience is present on social networks, with almost eight in ten listeners having a social media profile.