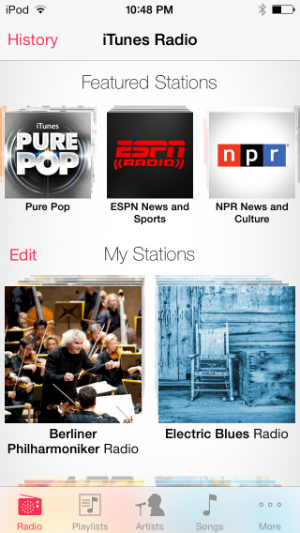 As previously speculated, Apple has added ESPN Radio and a selection of local NPR radio stations to its online radio streams. In doing so, Apple borrows a page from leading radio-station aggregators TuneIn and iHeartRadio.
ESPN Radio appears in the main Featured Stations menu in our test devices (iPad and iPod touch). NPR continues to hold a spot in that menu — as before, that stream contains excerpts of NPR programming, unmatched to individual stations. the expansion of NPR programming reportedly appears in some Featured Stations menus, but does not yet in ours.
We found an NPR station list by searching for "NPR." Searching for individual call letters also works (e.g. "WBEZ"), but only if that station is included in the iTunes Radio collection. Selecting an NPR station plays the live stream.
Our testing revealed glitches. Using WBEZ as a test case, the first strewaming attempt was clearly broken, with a stream fragment repeating. We stopped the stream and started it again, and it proceeded normally from there. Comparing the iTunes Radio stream to the Listen Live stream on the WBEZ website, we observed that the iTunes Radio stream was out of synch by at least 30 seconds — far longer than we have noticed with TuneIn and iHeart synchs.
That particular glitch is probably of little moment to most users, though, and the important news here is that iTunes Radio is expanding beyond music and comedy online-only playlists, to terrestrial-radio webcasts.