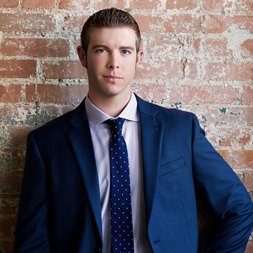 The Podcast Movement podcasting conference is an annual event that recently concluded its second year. It was founded by Dan Franks, a CPA who specializes in small business and entrepreneurial accounting. We spoke with Franks on the phone about the podcast industry and his conference.
Podcast Movement was launched in 2014 as a Kickstarter campaign. "We had a good Kickstarter response quickly," Dan Franks told us. "It didn't cover all our expenses, but the funding got us started, and also demonstrated that people cared about what we were trying to do, and that gave us motivation to move forward."
Podcast Movement had 1,100 attendees this year, against a projection of 1,000. Podcasting star Marc Maron was a late-confirming participant who brought in a second wave of sign-ups. "The extra publicity around Marc Maron gave the attendance a shot in the arm at the last minute," Franks said.
We asked Dan Franks whether podcasting is on track to become a major media category.
"I think it is. Last time there was a fair amount of venture capital injected into the space. That didn't pan out, and those investors left. But now, with Hubbard, Scripps, and other investors, it's a different kind of money being injected. I don't know whether those companies have enough money to write it off after a year or two if they don't like where it's going. But from a business standpoint, the groups which are coming into the picture — they symbolize to me that there might be more stickiness to it than before."
Podcasting is naturally related to radio. We asked Dan Franks whether broadcast radio should view podcasting as a threat or an opportunity.
"I think it's an opportunity," he said. "Radio is not going anywhere. The beauty of podcasting is its on-demand nature. So, just as Netflix can be seen as a threat to television, taking eyeballs off cable and network TV, but live television is not going to disappear because of Netflix and Hulu, or DVRs. They are not extinction threats. Same with podcasting and radio. There could be a shift in how people listen. But news and sports, which are the heart of talk radio, will always be relevant for radio."
He also noted that repurposing existing radio programs as podcasts is a particular bright spot. "That's where the opportunity lies for radio," Franks said. "I see that quite a bit already."
We were curious about how many of producers are making their incomes from podcasting, if they manage to land in the top-100 list of podcasts. Dan Franks talked about many successful podcasts fitting into a larger business plan.
"One of our conference presenters was Pat Flynn, who makes the Smart Passive Income podcast. He is always in the top-100 list, usually in the bottom half. He has built his personal platform largely based on the podcast, but he is not making his living on the podcast sponsorships. The podcast is supplementary to products and services that he offers. With a comedy show, there might not be a product-and-services website, or any larger business. So, the podcast ranking could be the same, with similar listening metrics, but completely different earnings."
One reason the podcast category is growing fast on the creative side is that the tools for making and posting audio are easily available. Dan Franks acknowledged that, but emphasized that a professional attitude about production quality is important to success, both for the individual producer and the industry as a whole.
"You've got a low barrier to entry, but the audio can't sound bad. Some people record their entire shows on their iPhones. Aisha Tyler records her entire show on an iPad, but people are going to forgive Aisha Tyler more easily than a less celebrated personality. There are different levels of forgiveness. As an industry, we run a risk of flooding the landscape with poor-sounding shows. Plenty of people are still discovering what podcasting is, and listening to their first one. If they find something great, they'll probably be podcast listeners for life. But if they stumble onto something that sounds like garbage, it verifies stereotypes of podcasting as throwing something on the Internet because anybody can. We emphasize taking pride and knowledge in production quality, because your show might be the first podcast somebody hears."