Internet listening gained four percent in April over march, according to data released by Triton Digital in its Webcast Metrics Top 20 Ranker. The two-percent gain from the previous month lifted total stream listening into new-high territory. April is the ninth consecutive month of aggregate gain for Triton's top-20 list.
Within that group, listening fortunes varied among the broadcast and pureplay streams. Pandora continued a dramatic upward trend that started last August (see chart below), gaining 27%.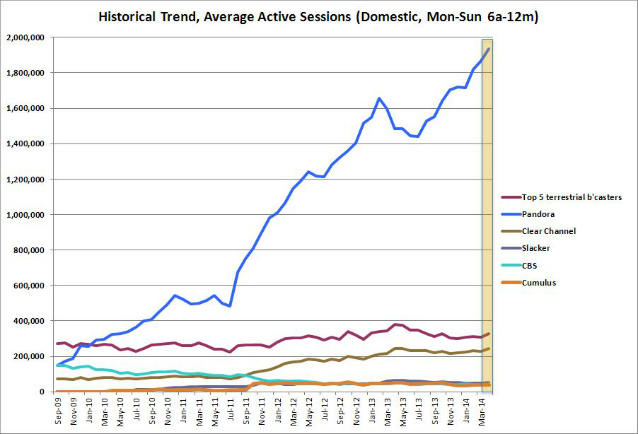 Month-over-month, Pandora gained four percent, measured as Average Active Sessions, Monday through Sunday from 6:00 to midnight. That four percent translates to a nominal gain of 69,000 streams.
Among terrestrial webcast streams in April, Clear Channel streams enjoyed the largest nominal gain (15,000 streams), for a 7% gain. Triton breaks out a separate line of top-five broadcast streams, which showed a 6% gain of 19,000 streams in April.
Triton's analysis, which accompanies the Top 20 Ranker, includes a chart that illustrates the year-over-year advancement of online radio since 2012:

The April year-over-year view shows strengthening performance for Pandora (+30%), NPR (+50%), Townsquare Media (+46%), and Idobi Radio (+37%). In aggregate, Triton's top-20 has gained 21% year-over-year.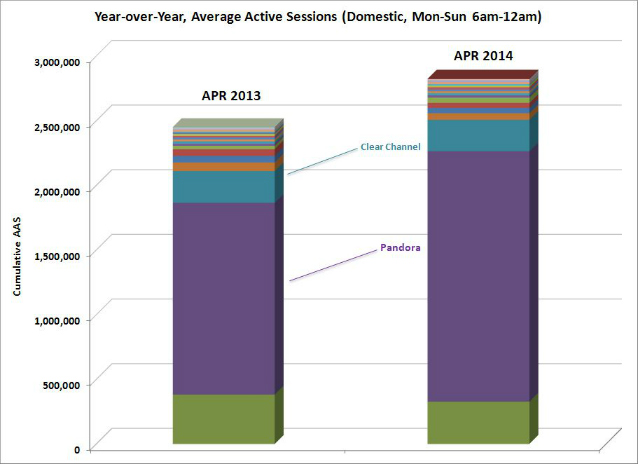 Looking at the year to date, the highest percentage gain among Triton's cohort belongs to AccuRadio, which has gained 15% in Average Active Sessions. In session volume, Pandora has seen the most growth, with 220,000 more sessions, on average, in April than in January, for a 13% lift.
Mobile shows continued strength. Triton notes that over 60% of all measured streams are serviced to mobile devices: