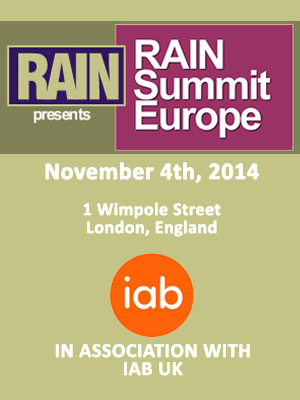 Internet radio executives from across Europe will meet in London, England on Tuesday November 4th for the 3rd annual RAIN Summit Europe.
RAIN Summit Europe will take place at the 1 Wimpole Street venue in London in association with the Internet Advertising Bureau UK. The conference will be a day-long event and include thought provoking panels and presentations, insightful speakers, and engaging networking opportunities. Executives from many different European countries will share thoughts and ideas on the future of radio in the digital world.
For over a decade, RAIN Summit conferences have been the premiere educational and networking events for the Internet radio and online audio industry. RAIN Summit conferences are presented several times each year in North America and feature top speakers and panelists from around the world.
"We are delighted to be working with the IAB UK on this year's RAIN Summit Europe in London," said RAIN Summits president and CEO Jennifer Lane. "Online audio is a fast growing, highly measureable medium that offers advertisers an enormous value proposition. With the help of the IAB UK, we will be developing an agenda that will examine all facets of the business."
RAIN Summit Europe will feature a pan-European list of speakers who are experts on various aspects of the field of streaming radio. Featured speakers at past events have included:
Ben Drury, 7Digital, UK
Jonathan Forster, Spotify, Sweden
Caroline Graze´, NRJ Germany
Simon Gooch, SBS Radio Sweden/Radio Play, Sweden
James Cridland, Media UK, United Kingdom
Ali Abhary, Spectrum Medya, Turkey
Kjartan Slette, WiMP, Norway
Christian Schalt, KISS FM/Radio Service Berlin, Germany
"The IAB Audio Council is very much looking forward to working with RAIN on this year's Summit in London," said Kurt Edwards, International Commercial Director at talkSPORT and Co-Chair of the IAB Audio Council. "Digital audio is gaining real momentum across Europe and this event will really open up the eyes of marketers and agencies to new opportunities."
"Digital audio advertising is becoming a dynamic sector with Audio DSP, Audio Exchanges, Audio Trading Desks and Audio SSPs developing in the market. This is why RAIN Summit Europe in London is so important," said Matt Whaley, Founder of Audiotise and Co-Chair of the IAB Audio Council.
For more information, and to register, CLICK HERE.