Internet listening gained one percent in January over December, according to data released by Triton Digital today in its Webcast Metrics Top 20 Ranker. The one-percent gain from the previous month nudged total stream listening into new-high territory. January is the fourth consecutive month of Internet listening reaching into record territory.
The key metric is Average Active Sessions, measured in a 6:00am – 12:00am day, Monday through Sunday. The cumulative number of AAS was 2,254,371 for domestic listening.
Within the ranking, the best nominal month-over-month success belonged to Clear Channel, which led the top-20 field by gaining over 7,000 average active sessions. In percentage terms the monthly top-gainer was Hubbard, which grew active sessions by 24 percent.Other leading percentage gainers were Cox, EMF, and NPR, with 20+ percentage points each on the plus side. The largest monthly drop-off is attributed to AccuRadio, whose January metrics tracked at 76% of December. In December, AccuRadio had its highest Average Active Sessions of 2013.
The top five terrestrial broadcasters, viewed as a group, gained 3% Internet listenership, month over month.
The long-term historical trend of the top five leaders (see chart below) shows a downtick for market-leading Pandora, and an uptick for the web streams of top broadcasters.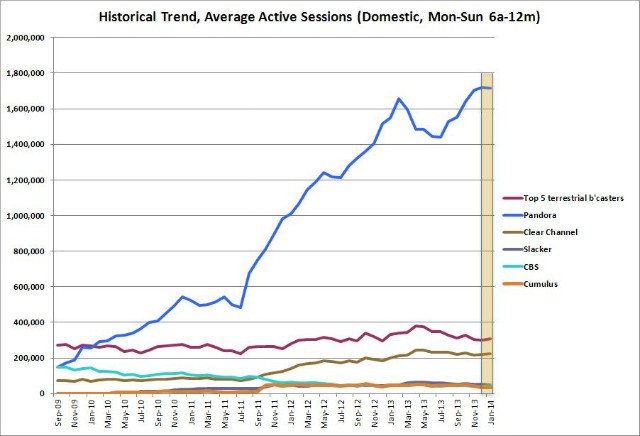 Year-over-year, Triton shows 10% growth in cumulative listening over January, 2013, based on Average Active Sessions. In this longer time frame, Pandora grew its number by 11%, or over 169,000 sessions. The percentage growth leader in this view was NPR, which grew its sessions by 53%. Univision and Townsquare also showed vigorous year-over-year growth of 50% and 48% respectively. Independent webcaster Idobi gained 49% year-over-year.
The following chart illustrates cumulative year-over-year listening growth, with the top five market leaders called out: