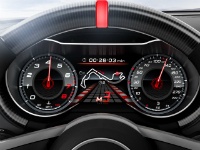 Audi announced today that its 2015 A3 will be the first North American car equipped with high-speed 4G LTE Internet connectivity. Anticipating 2015 by nine months, the new sedan will roll out later this month. The Internet connection and data plans will be supplied by AT&T.
With this new car, Audi is driving fast down the road of in-car connection to online services such as online radio. This digital strategy contrasts with plug-and-play dashboards, such as Ford's SYNC dashboard, where the driver provides the Internet connection (usually via a smartphone) and the data plan.
The business question surrounding built-in Internet in a car is this: Will consumers be willing to pay for another data plan? Most digitally connected households pay monthly charges for Internet in the home, and again for Internet in their smartphones. Dishing out for Internet again in the car is a lot to ask, considering there is probably a connected phone in the car at the same time. On the plus side, having a factory-installed rolling WiFi hotspot is a tremendous convenience, solving the hassle of plugging the phone into the dashboard with a cable, or pairing it via less-then-flawless wireless Bluetooth.
Audi and AT&T have taken the first step in defining the pain point for that convenience with today's announcement, which includes data-plan pricing for the A3. Two plans will be available: $99 for 5GB over six months, or $499 for 30GB over 30 months. Every A3 buyer will enjoy a free six-month trial period. That pricing model (about $17/month for one gigabyte of data) is reasonable compared to some capped phone plans.
Overage fees are not disclosed in today's announcement — and it seems to us that moderate daily use of Pandora (or any streaming audio) could exceed the announced data limits. Audi's press release states that the plans are based on typical usage of the automaker's existing 3G-equipped cars.