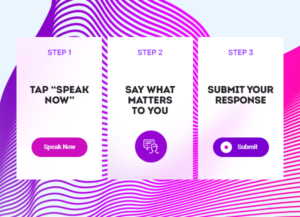 Instreamatic, the audio tech company known for its development of interactive audio ads (called Voice Ads) which enable listeners to engage with audio commercials conversationally, has released something new. It's called Speaky, which provides one-click spoken messaging on any web page.
The company describes Speaky as "incredibly simple to use but built on deep and thorough patented technology that we've developed over the last several years."
Speaky is intended as a customer relationship tool. Placing it on a web page enables any visitor to send an audio message. Activating the feature on the front end is simple: The user simply clicks on a "Speak Now" button, and talks. Instreamatic imagines Speaky placed on any enterprise's customer touch point. It can also be implemented on email, social media, and newsletters.
This launch is preceded by a testing period during which Speaky has been tried by hotels, magazines, catering companies, and retailers. We think this product, or a specialized version of it, could be an excellent tool for podcasters and radio broadcasters to build stickiness in their listener base, and possibly incorporate crowd-spoken audio in their productions.
Anyone can try Speaky HERE — it sends a Speaky message to Instreamatic founder Stas Tushinsky.
.