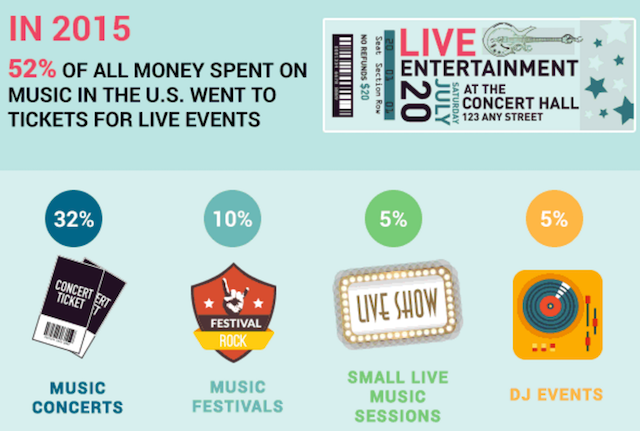 Much research into consumer spending on music shows live concerts as the top recipient of dollars. For instance, Nielsen's 2015 year-in-review showed that more than half of the money spent on music by an average U.S. adult went toward some form of live performance. A new infographic from Moneytips breaks down more detail about concert spending habits.
Based on its calculations, 52% of all money spent on music last year was spent on tickets to live events, including concerts, festivals, small live music sessions, and DJ events. Of the average $80 spent on all music by teenagers last year, $38 went toward live events. The 18-34 age group spent $163 on all music, including $104 for live music.
And for context, the infographic also shares the priciest tickets from last year. Andrea Bocelli topped the list with an average of cost $202.95 to see him live. Seeing the Rolling Stones runs an average of $174.50, while Celine Dion costs $163.44 and the Eagles are $159.76.