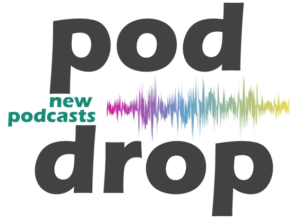 Pod Drop features new and returning podcasts. Today, a branded podcast from WeTransfer, a new show from The Moth / PRX, and another new show from TED.
---
Influence: Exploring The Good, The Bad, and The Ugly Of Advertising (WeTransfer)
This interesting and accessible podcast about advertising has just returned for its second season. It is a branded podcast produced by file-storage and sharing service WeTransfer, hosted by Chief Creative Officer Damian Bradfield. It's an extended documentary podcast that takes a deep dive into the world of advertising via interviews with experts and ad execs. It explores questions like: How much of a say do we really have when it comes to the things we buy? And what does the way we consume advertising say about our culture, our economy and our world? One reviewer said: "Influence has helped me understand the internet better." While never in the Top 100 Apple chart in the marketing category, it has performed well:
trailer:
All Together Now: Fridays with The Moth (The Moth / PRX)
This is a podcast drop within a podcast. The Moth is the well-known live storytelling show that started in 1997! — as a podcast it is downloaded 73-million times a year. It might seem like the gambit here is to add a second story performance show into The Moth's existing feed — and that is the case — there is also a thematic rationale for "All Together Now." There will be a new episode every Friday through Labor Day featuring "PG-rated" stories from The Moth archive, curated into weekly themes … like Identity, Togetherness, Transformation, and more. We're told that the show is for listeners who are distancing or quarantining together in response to the COVID-19 pandemic: kids, couples, singles, and friends of any generation. So, it's a Covid-19 spinoff meant to bring The Moth's warmth, humor, and inspiration to a limited run of special shows.
trailer:
TEDx Shorts (TED)
TEDx Shorts is the seventh in an enlarging empire of TED programs, whose podcasts are downloaded 420-million times a year. The TED Radio Hour, now hosted by Manoush Zomorodi, is the audio flagship for this cluster of TED shows. TEDx is the localized extension of the original TED talks. The TEDx program started in 2009, and there have been 28,000 TEDx events in 170 countries since then. With those numbers, you have to think it's about time we get a podcast featuring the best of those local events and presentations. Hosting this new podcast is actress Atossa Leoni, known for her role in the television series Homeland. The promotion for this podcast mentions that Atossa is fluent in five languages — she appears to settle on English for this show.
It's not called TEDx -SHORTS- for nothing — the bite-sized episodes will each be under 10 minutes.
trailer:
.