Edison Research and Triton Digital unveiled the third annual Infinite Dial Canada, a consumer study of how Canadian adults (18+) listen to audio and own audio technology. In a live webinar, Edison SVP Tom Webster and Triton SVP Stephanie Donovan presented and discussed the slides.
As a companion project to The Infinite Dial which studies American listening, the Canada effort covers most of the same broad topics — device ownership, recognition of audio brands, in-car listening, smart speakers, and podcasting. One difference is the respondent profile: the Canadian cohort is 18+ whereas the U.S. study also questions teenagers 12-18. Today's presentation was full of comparisons of the two study results, in which the U.S. numbers were adjusted to 18+ respondents.
Audio brand awareness is a key metric in Infinite Dial, revealing the extent to which online listening has pervaded consciousness at the service brand level. The chart below compare Canada with the U.S., using Canadian metrics as the baseline. It is influential that Pandora, a U.s.-only service, doesn't operate in Canada.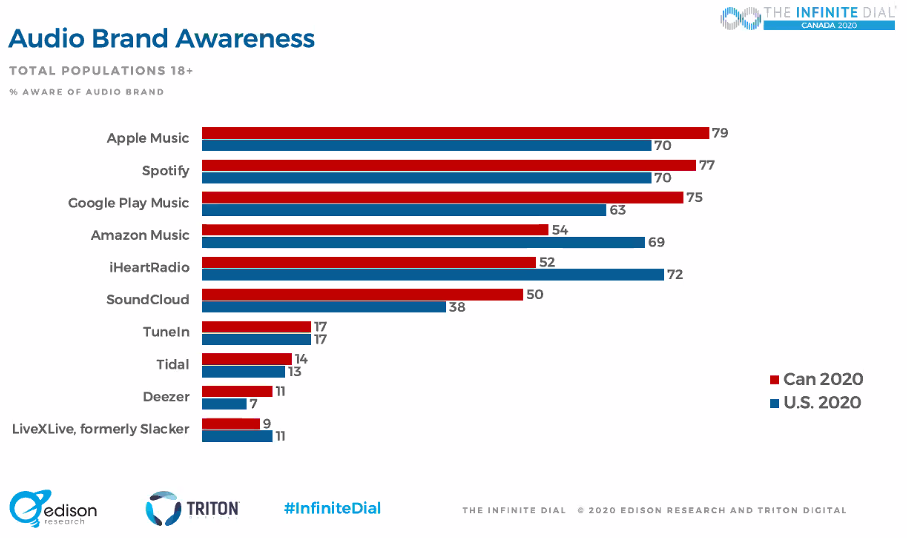 "Online audio" represents all kinds of internet-delivered content and content categories. In terms of actual listening, we learned that 70% of Canadia adults listen to online audio monthly. Sixty percent listen weekly. Tom Webster talked about pent-up demand being released in Canada with the sudden availability of unlimited-data phone plans in the country, starting in June of last year. The previous absence of low-cost online listening frustrated Canadian listeners in past years.
Among smart speaker owners, Edison asked how many are owned in households In Canada the mean number is 1.7, compared to 2.1 in U.S.
Radio reach is steady. Sixty-nine percent of Canadian respondents listen to AM/FM weekly. The U.S. number is 68%. But the reach of online AM/FM is only 14% in Canada.
In podcasting, the survey responses indicate a fast-maturing industry. Thirty-seven percent of Canadian adults listen monthly — it's the same number in the U.S. (Tom Webster noted that both Germany and Australia have lower penetration.)
Weekly listening is at 24%, a trace higher than in the U.S.: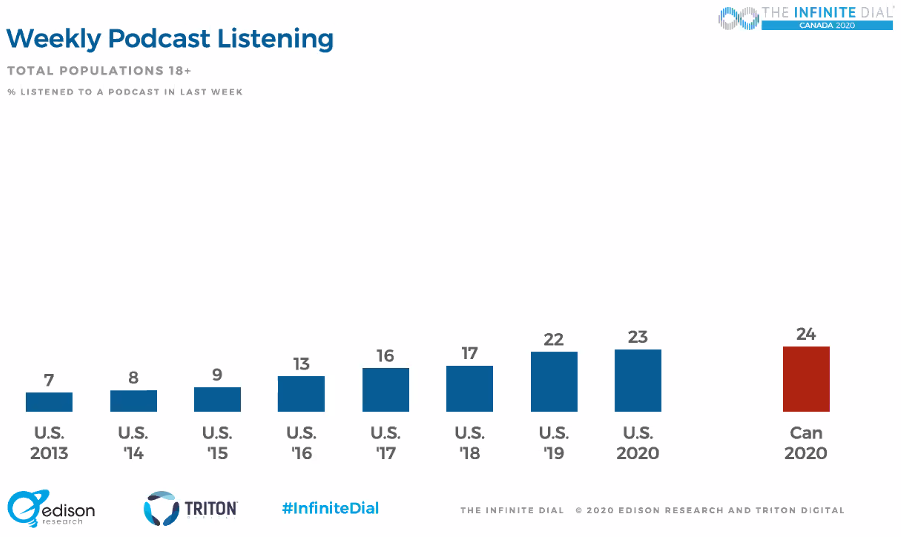 In that weekly group, people listen to an average of six podcasts a week — and one-third listen to more than six.
One key podcast metric is whether listeners stick through entire episodes, a query of special interest to advertisers. (Even aside from whether people use the skip function of most listening apps to jump over commercials.) As in other studies, the answer in Canada is good news: 80% listen to "most" or all of their shows: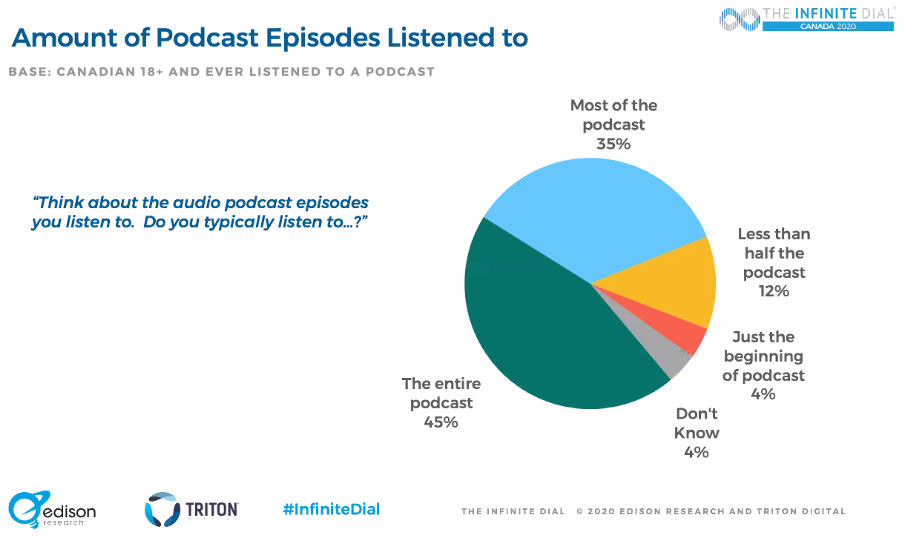 The webinar's key observations:
Introduction of unlimited data in summer 2019 has released pent-up demand for online audio
The monthly/weekly consumption of online audio exceeds demand in the U.S.
One in four Canadian adults owns a smart speaker. and Google products are in the lead.
Lack of Pandora in Canada helps Spotify reach
Nearly one in four cars have in-dash, internet-enabled units
Canadian podcast consumption now equals the U.s. in percentage terms.
See The Infinite Dial Canada on the Edison Research website HERE.