Signal Hill Insights has released a spring 2020 update to its annual Canadian Podcast Listener consumer survey. The timing of the update facilitated questions about Joe Rogan's upcoming move to exclusive Spotify distribution. There are also interesting metrics about how Canadians listen to podcasts.
We spoke to Signal Hill Insights Founder/CEO Jeff Vidler about the report and his newly rebranded company. Here is the conversation via Zencastr:
Regarding Joe Rogan, the study posits this question: "What does it mean for Joe Rogan's outsized audience — with more than three times the reach of the #2 podcast in The Canadian Podcast Listener 2019?"
The answer? "Spotify exclusivity likely to shrink Joe Rogan's huge listener base." A combined 41% of respondents said they would reduce or eliminate their JRE (Joe Rogan Experience) listening when it moves to Spotify toward the end of the year. (JRE is a hybrid YouTube video program and audio podcast. The audio podcast moves to Spotify in September; the video will be bundled in by the first of next year.) Forty-three percent of respondents said they would consume the show as much as they do now.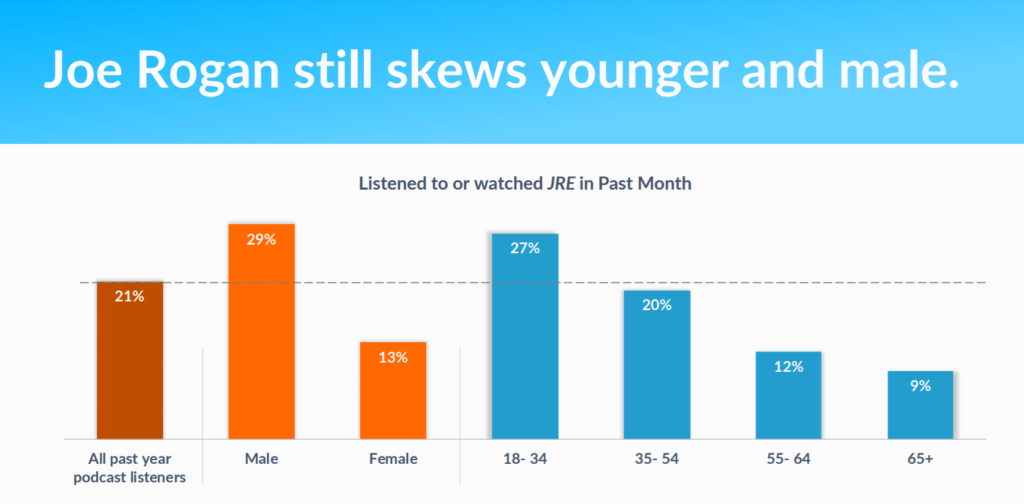 Interestingly, YouTube is the preeminent platform for consuming podcasts among Canadian Podcast Listener respondents. The survey also examined the Spotify/Apple rivalry, and discovered that Spotify is closing in on the legacy distribution leader: 21% use Spotify most often; 23% use Apple most often. Overall, 40% use YouTube most often.
Perhaps surprisingly, it is the 55-64 demographic which leads YouTube use for podcasts. The 18-34 cohort leads in use of both Spotify and Apple.
Podcast: Play in new window | Download
Subscribe: RSS