Edison Research has shared the results of its latest investigation into audio trends down under. The Infinite Dial Australia 2019 is the third edition of the report for this market, and was commissioned by Commercial Radio Australia, Southern Cross Austereo's PodcastOne subsidiary, and Triton Digital. The report highlighted growth in podcasting and smart speakers for Australia, plus detailed some notable differences from the most recent U.S. data.
Listening to AM, FM, and DAB+ radio took a dip in Australia, with 83% of the 12 and older population tuning in in the last week. That's compared with 88% in 2018 and 85% in 2017. The results still exceed the 67% weekly listening rate in the U.S. this year. Just 15% of Australians are listening to AM/FM stations online in the last month.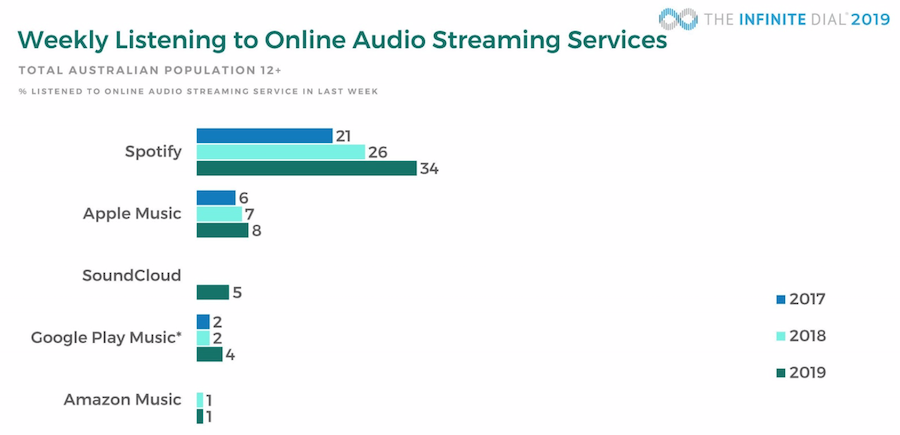 Awareness of online audio streaming in Australia has mostly been growing. Spotify posted the highest awareness in this market with 85%, up from 77% and 73% in the previous two years. Apple Music was close behind at 83%, compared with 75% and 72% in 2018 and 2017. Google Play Music leapt up in awareness, almost doubling from 35% in 2018 to 63% in 2019. Amazon Music also posted gains from 37% to 48%. Tidal remained at a constant 10% awareness. SoundCloud and Deezer made their first appearances in the chart with 42% and 5% awareness, respectively.
Spotify also took the lead for weekly listening to online audio streaming in Australia with 34%. That rate was up from 26% in 2018 and 21% in 2017. Spotify has a notable lead in this market and has kept it for all of the Infinite Dial iterations; none of the other audio services broke into double-digit percentages of weekly listening. YouTube has held steady with 48% of Australia's population using the service weekly, a similar performance to the one recently reported in the U.S.
The average time spent listening to online audio in Australia has been steadily rising. The 2019 weekly average was 11 hours, 6 minutes.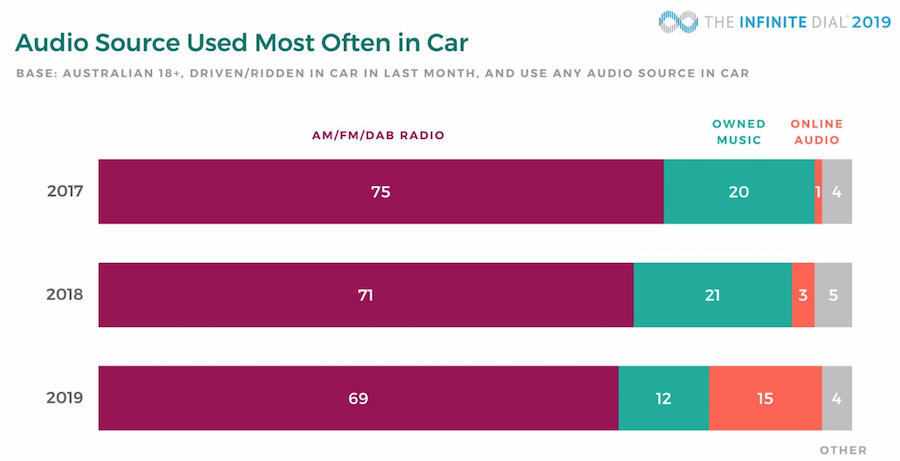 The Infinite Dial explored trends of audio in cars. AM/FM/DAB+ remained the top source of listening in vehicles, although the rate of use dipped slightly to 85% after two years of 89%. CD players also dropped in use, with just 38% of Australian adults riding in a car with one in the last month. Owned digital music also fell to 21%. Online audio streaming service use jumped up to 26% and podcasts rose to 12% in cars. Although AM/FM/DAB+ remains the most commonly used source of car audio, online audio streaming is growing its share and is the most commonly used source for 15% of Australians in cars.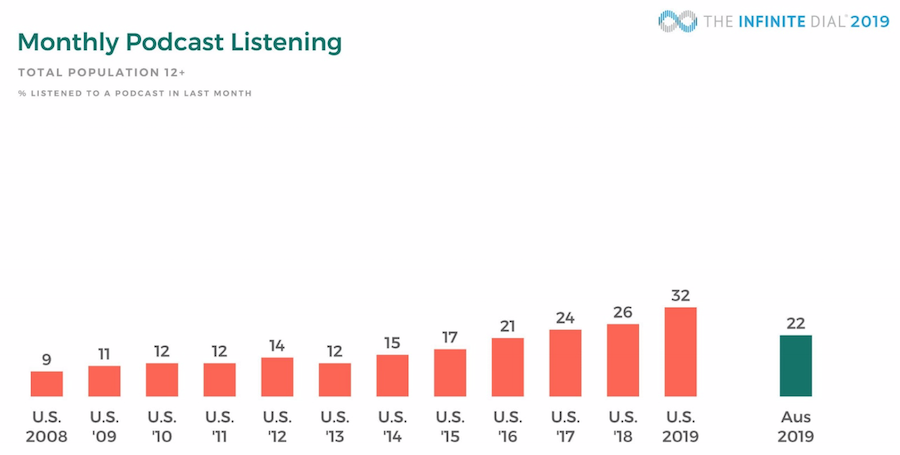 Podcasting is also seeing an upward trend in Australia. Awareness of the format grew to 83% in 2019, surpassing the 70% rate in the U.S. About a third (30%) of Australians said they have ever listened to a podcast; 22% said they listened to a show in the past month and 15% heard a podcast in the past week. The rates of regular listening trailed behind those in the States. Weekly listeners in Australia reported tuning into an average of six shows a week.
Smart speaker awareness rose from 62% in 2018 to 82% in 2019. Ownership of these devices also grew, nearly tripling from 5% in 2018 to 13% this year. The rates of ownership were highest for the 25-34 age group at 15%. Again, the Australian market is trailing behind the United States, where overall ownership reached 23% in 2019.