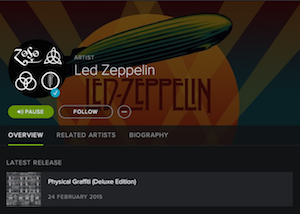 In the early days of streaming, it wasn't uncommon for big-name musicians to withhold their catalogs from online services. Led Zeppelin was a famed holdout, to the point where the band giving exclusive rights to Spotify back in 2013 was groundbreaking.
So it's a sign of the times that the Zep is expanding where you can hear its music. This week, the band opened up its library to listeners on several more platforms, including some that specialize in hi-def listening, such as Tidal and Deezer Elite. More and more artists and their representation are realizing the importance that streaming services play in the current listening environment. Seeing a highly cautious group like Led Zeppelin now take advantage of the range of platforms available seems like an endorsement of this approach.
Led Zeppelin's addition of so many hi-def services is particularly unsurprising; the audiences on those platforms trend older and their taste favors bands from past decades. MusicAlly crunched some numbers and found that the entire Zeppelin catalog has garnered 183.1 million streams on Spotify. For context, Ed Sheeran's single "Thinking Out Loud" already has 228.3 million plays.
It's also worth noting – as we at RAIN pointed out when the Zeppelin/Spotify deal first broke – that none of these listening platforms is the dominant one for online music. That crown goes to YouTube, which has had the entire Zeppelin discography in some way, shape, or form for years. YouTube's dominance has changed the impact of exclusive deals like that initial one Spotify secured with Led Zeppelin. Listeners can find just about any song by any artist on YouTube, and most contemporary musicians maintain their own channels. It's a powerful force in the music industry, and one that everyone will be keeping their eyes on.