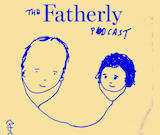 iHeartRadio announced the debut of another original podcast. Joshua David Stein hosts the weekly show dubbed The Fatherly Podcast, which will feature discussions about raising children and the men who take on that role. Stein is a journalist and children's book author.
"Our goal is to create a podcast that makes fathers feel more empowered," said Andrew Burmon, editor-in-chief of Fatherly. "It's in Joshua's nature to ask substantive, probing questions and to be forthcoming and honest about his own experiences. This is about bringing private sentiment into the public square and we do that well."
Father of four and filmmaker Ken Burns will be the first guest. The podcast will also have recurring features such as advice from Fatherly Science Editor Josh Krisch and conversations with kids for additional perspective.
"Fatherly has done a tremendous job building their brand and creating great content that we know iHeartRadio listeners will enjoy," said Chris Peterson, senior vice president of podcasting for iHeartMedia. "We are excited to help Fatherly bring their audio strategy to life with the launch of The Fatherly Podcast on iHeartRadio." iHeartRadio first announced plans for The Fatherly Podcast in September.