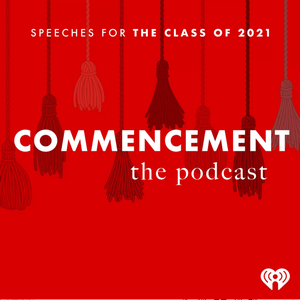 iHeartRadio has resumed its Commencement series of audio graduation speeches by celebrities. Started in 2020 as a remedy for cancelled ceremonies, the franchise picks up this year with a new slate of presenters: Joe Piazza, Erin Andrews, Demi Lovato, Nikki Glaser, Ben Bowlin, Minnnie Driver, Michelle Williams, and Bowen Yang. It's a shorter slate than last year, but the idea is the same: Audio speeches which deliver some blend of inspiration and humor.
This is a single-date podcast feed, which is to say that all eight episodes (fewer than last year) were dropped on May 15. This allows listeners to pick their favorite personality from the roster.
Worth noting that the episodes range from three to 11 minutes in length, and there's a heavy lift of introductory content in each one considering that brevity. Nikki Glaser's episode is six minutes long, and her actual speech runs between 1:35 and 2:50. It is prefaced by a pre-roll ad, and the explanatory series introduction which runs in each episode (rather tediously for anyone listening to them all in a sitting). There is also post-speech applause and wrap. All this means that her speech runs for less than half the episode length. Demi Lovado appears at 0:57 in her three-minute episode.
That quibble aside, we enjoy this series, and hope it continues post-Covid.
.