The RAIN Global Audio Evolution Summit is set for Thursday, May 20. Details below; free registration HERE.
The event is supported by presenting sponsors AllMediaDesk and Targetspot, and further supported by AdsWizz and AccuRadio.
Seven expert thought-leader sessions will be presented in a compact and dynamic four-hour Zoom event: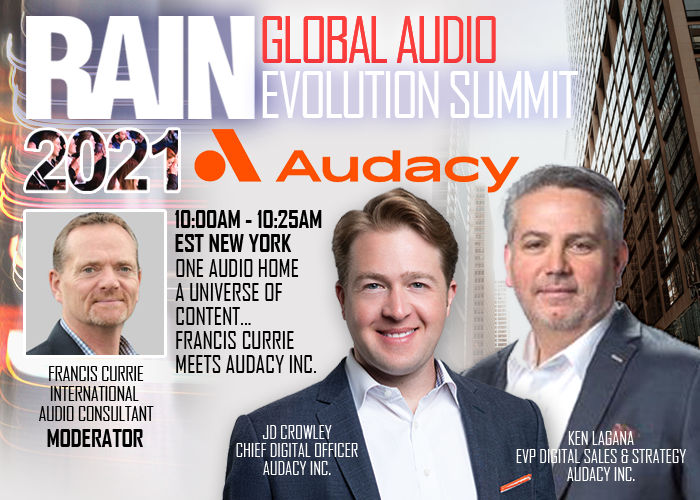 Opening the event, International Audio Consultant Francis Currie introduces AUDACY 's JD CROWLEY, Chief Digital Officer, and KEN LAGANA, EVP Digital Sales & Strategy and opens up the conversation on U.S. radio's latest deep-dive into a completely re-imagined and expanded digital future in 2021.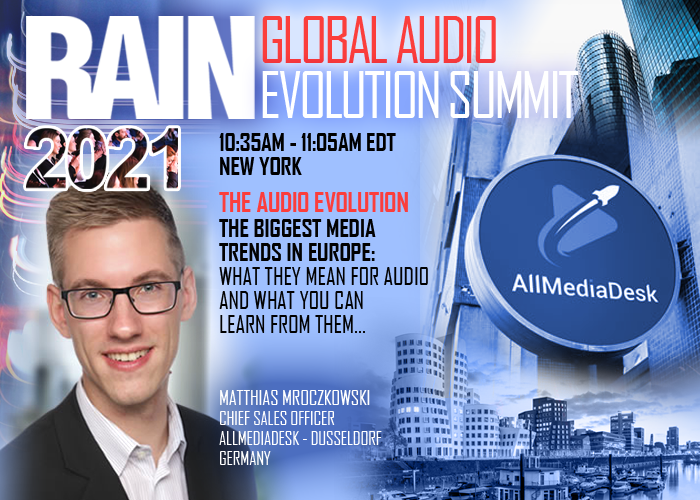 Matthias Mroczkowski, Chief Sales  Officer, ALLMEDIA DESK, Germany, zeroes in on the challenging areas of targeting, from Google stopping the support of third party cookies, through to GDRP General Data Protection Regulation — the core of Europe's digital privacy legislation. Convergence is an issue as sales houses sell online audio and broadcast radio, and the growing demand of customer portals and DSP's as advertisers and agencies show more interest in easily purchasing media inventory over software interfaces.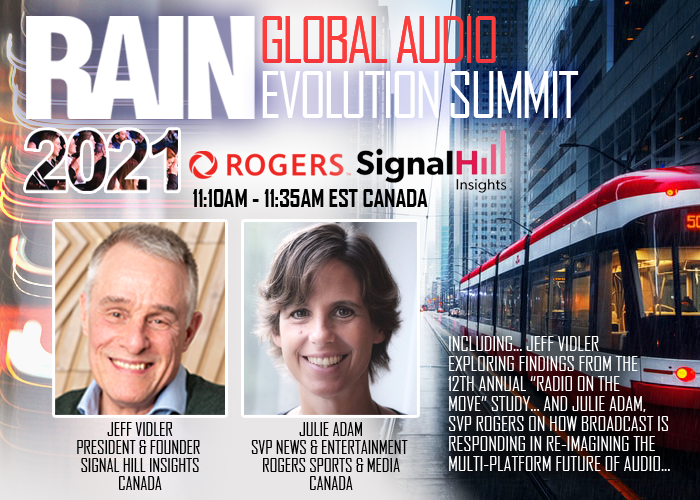 Increased use of smartphones and rising penetration of smart speakers have more Canadians using more audio, including increased streaming of broadcast radio. Jeff Vidler of Signal Hill Insights will take us through these and other key findings from their 12th Annual Radio on the Move study. Julie Adam, SVP of News and Entertainment for Rogers Sports & Media, will join Jeff to talk about how one of Canada's biggest broadcasters is responding to this change by reimagining the multi-platform future of audio.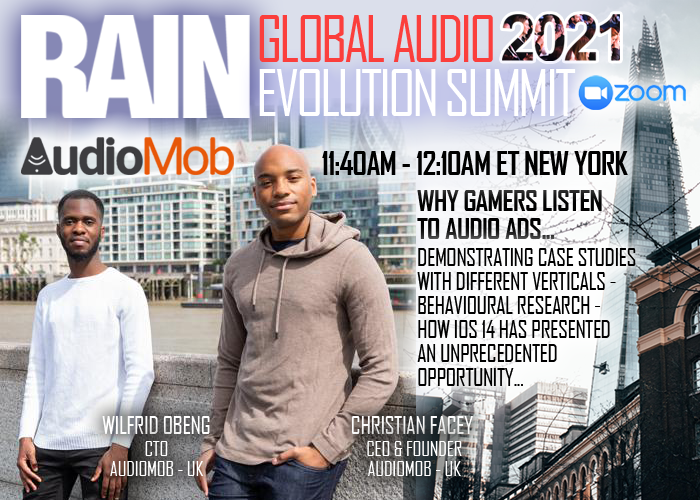 As the gaming space looms ever-larger in the new digitally engaged future, AUDIOMOB's CEO & Founder, Christian Spacey, demonstrates case studies within different industry verticals, new behavioural research gathered and conducted in this last pandemic year, and how iOS 14 has presented an unprecedented opportunity going forward into 2021.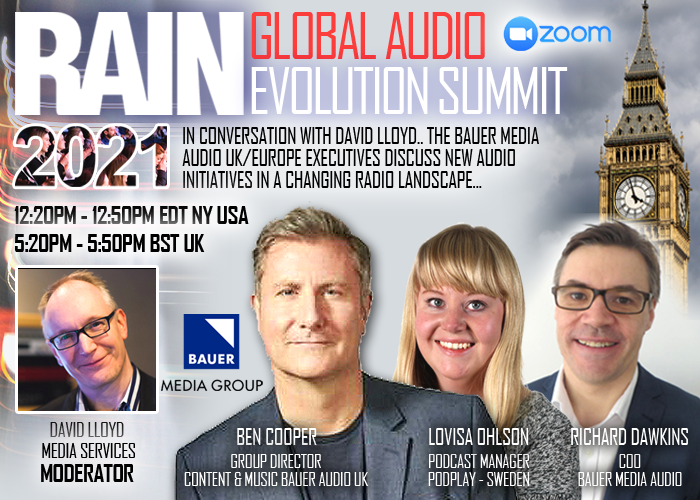 Bauer Media Audio is reinventing radio for music-lovers. Radio stations Scala Radio, Jazz FM, Planet Rock and Kerrang! Rock Radio are enriching and extending the live radio experience by launching premium subscription online radio services. UK Media Services David Lloyd discusses this and all that Bauer Media Audio is embracing as it pivots into 2021 and a fresh digital journey.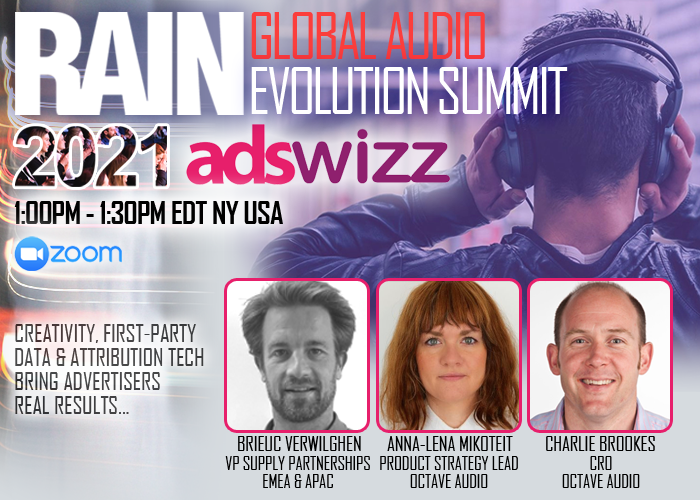 Join AdsWizz and Octave Audio for a look into case studies demonstrating the power of integrating first-party data, how smart speaker focused campaigns can bring new engagement in audiences, and how combining creativity and attribution technology brings advertisers the results they want.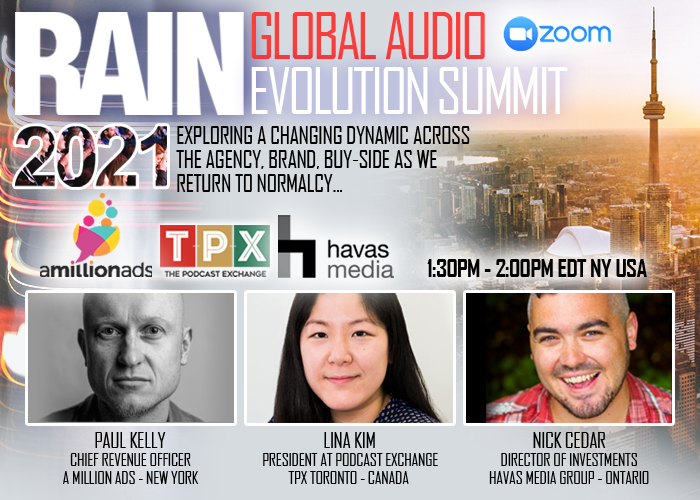 As revenue and investment shifts in a re-imagined post pandemic landscape, A MILLION ADS New York, TPX in Toronto, and HAVAS MEDIA GROUP Ontario explore the changing dynamics across the agency, brand, and buy-side as we return to post-pandemic normalcy.
Free registration for RAIN Global Audio Evolution is HERE.
.