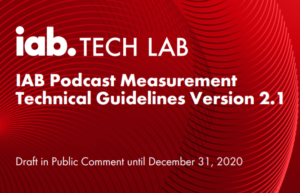 The Interactive Advertising Bureau (IAB), owner of the standard set of guidelines for podcast measurements, has revised the spec and reissued it as version 2.1. The previous version, which has become a unifying definition of how to count downloads, audience reach, and advertisements in shows, was colloquially known as "IAB 2." [Download v2.1 HERE.]
The revision is the first since 2017. It includes what the organization calls "a new section with guidance on user agent structure, recommendations for IPv6 IP addresses, filtering guidance for Apple watchOS user agents, and a number of additional podcast player recommendations."
The revised doc also redefines four key terms: Download, Listener, Ad Delivered, and Client-Confirmed Ad Play. Here are the definitions:
Download: a unique file request that was downloaded. This includes complete file downloads as well as partial downloads in accordance with the rules described earlier.
Listener: data that represents a single user who downloads content (for immediate or delayed consumption). Listeners may be represented by a combination of IP address and User Agent as described earlier. The listeners must be specified within a stated time frame (day, week, month, etc.).
Ad Delivered: an ad that was delivered as determined by server logs that show either all bytes of the ad file were sent or the bytes representing the portion of the podcast file containing the ad file was downloaded.
Client-Confirmed Ad Play: counts an ad that was able to prompt a tracking beacon from the client when the file was played. Whenever possible, metric should include information about how much of the ad was played using the markers: ad start, first quartile (25%), midpoint (50%), third quartile (75%), and complete (100%).
"The podcast industry has remained vibrant during the global pandemic. Podcast listeners are loyal and highly engaged which makes them an appealing target for marketers," said Shailley Singh, Vice President, Product and Global Programs, IAB Tech Lab. "However, this medium is currently under-utilized due to industry challenges around a commonly agreed-upon set of metrics. The IAB Podcast Measurement Technical Guidelines is designed to address this by creating a consistent set of podcast advertising metrics so buyers and sellers can engage in a conversation about campaign strategy with confidence."
"The changes to the IAB Podcast Measurement Technical Guidelines v2.1 are the result of hours of conversation, collaboration, and research among podcast industry leaders across a range of topics most notably with respect to guidance for podcast app developers," said Podtrac's Co-founder Robert Freeland, a co-chair of the IAB Tech Lab Podcast Technical Working Group. "The IAB Tech Lab Podcast Technical Working Group continues to iterate on its standards to provide the market with the most accurate and consistent data."
NPR's Steve Mulder, another co-chair, offered this: "Podcasting continued to grow in 2020 despite the COVID-19 disruptions to all of our lives, reinforcing the power of this medium to connect with audiences. With this continued growth, it is vital to accurately measure podcasting effectiveness, and that's why the updates to the IAB Podcast Measurement Technical Guidelines matter. These updates ensure podcast metrics can be trusted by publishers and advertisers for making key investment decisions in this powerful medium.""
.