Since the IAB launched a second annual Podcast Upfront last spring, the expanded franchise has not diluted demand for presentation spots. Approahced the May 10-12 virtual showcase this year, we see 30 presentations over three afternoons of pre-recorded pitches to advertisers.
Podcast Upfront is an invitation-only show for an audience of buy-side professionals — advertisers and agencies, mostly — who attend to get glimpses of new shows, network strategies, and lots of general advocacy for the values of podcast marketing. The IAB promises "the year's most exciting releases, as well as previews of creative opportunities, and insights that will define the podcast landscape for the year ahead."
As always, RAIN News plans the industry's most attentive coverage.
"Podcast advertising is a billion-dollar industry, but there are still brands who have yet to fully embrace these advertising opportunities. Podcasting dominates the audio marketplace and influences listeners, content creators, and advertisers alike, while also delivering great scale to brands across all vertical categories," said Eric John, Vice President, Media Center, IAB. "Powered by a unique and intimate relationship between listener and host, podcasting provides a highly engaging and personalized ad-friendly environment that resonates with consumers and helps deliver high ROI for brands."
Speakers are not listed (as of this post) in the IAB's lineup of presenters, but we are promised that info will arrive. We'll grab it when we can. In the meantime, the following agenda shows presenters and scheduling.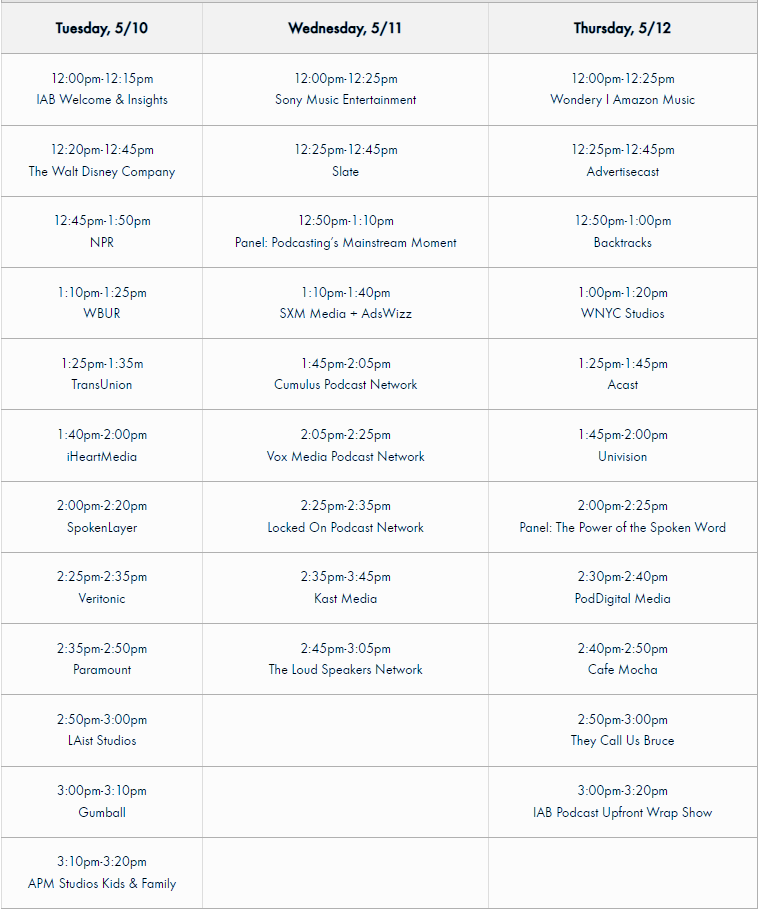 .