The IAB has released its half-year report, which found that Internet advertising revenue in the U.S. reached $57.9 billion in the first six months of 2019. The total is up 16.9% from the $49.5 billion generated in the first half of 2018. The first quarter contributed about $28 billion in revenue and the second quarter provided about $29.9 billion.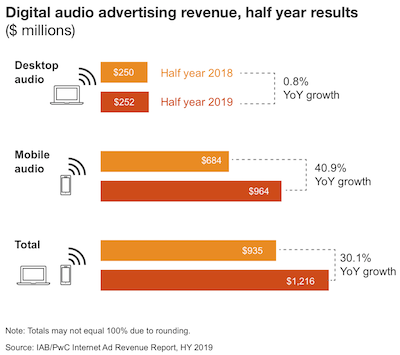 The half-year results showed continued favoring of mobile platforms. Mobile was responsible for 69% of the total Internet ad revenue during the period, up from a 62.5% share in the year-ago period.
Digital audio advertising also grew, rising 30.1% to $1.2 billion for the first six months of 2019. Mobile digital audio advertising saw an even more dramatic spike, up 40.9% year-over-year to reach $964 million. Desktop showed very little change, and only delivered $252 million in revenue. All digital audio represented a 2.1% share of the half-year digital advertising total.
Although many metrics increased in the half-year report, the findings did include signs that growth for digital advertising is slowing. The first-half revenues for 2019 were slightly less than the total in the second half of 2018 (but only by $30 million). The rate of increase between the first and second quarters also shrunk, hitting the lowest rate since Q1 2015.