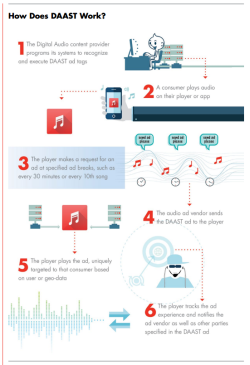 The Interactive Advertising Bureau (IAB) has released A Digital Audio Buyer's Guide, a free, 29-page explanatory overview of the streaming audio advertising ecosystem.
"The use of audio ads is experiencing a renaissance as advertisers take advantage of digital offerings that provide listeners with greater choice, control and customization of their experience," said Carl Kalapesi, VP of Industry Initiatives at IAB. "The result is a highly personal and exclusive advertising experience that creates a natural opportunity for brand alignment."
Promoting digital audio's high-growth, mobile-friendly attributes to marketers, the guide provides IAB best practices, the inherent opportunities of digital audio advertising, examples of ad types, types of companies that serve the industry, a glossary of terms, and more. Helpfully, the guide uses infographics to illustrate some complex operational and value chains. The graphical approach is particularly illuminating when illustrating how DAAST (Digital Audio Ad Serving Template, a potentially industry-unifying technical standard created by the IAB) works.
Les Hollander, Senior Director of Digital Audio at Spotify, is credited with helping create the guide. "The guide is designed to be a primer for planners, buyers and marketers," Hollander told RAIN News. "Our working group focused on keeping it simple but informative. More and more marketers are looking to digital audio as a pathway to increased engagement. Hopefully our efforts will cause all boats to rise in digital audio."
The main information page for A Digital Audio Buyer's Guide is here, and the Guide itself (PDF) is here.
RELEVANT NOTE: The Streaming Audio Marketplace, a strategic overview of online advertising produced by RAIN News, is available here.