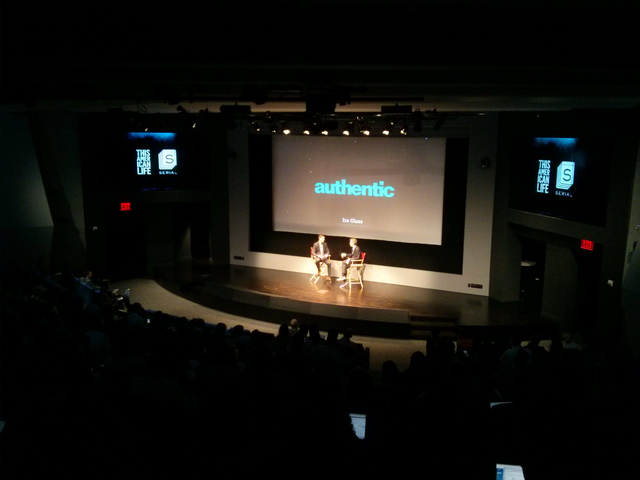 ---
Yesterday's Podcast Upfront 2016, produced by the Interactive Advertising Bureau (IAB), was theatrically presented at Time Inc. headquarters in downtown Manhattan. In an eight-hour series of presentations, leading podcast content networks and advertising companies paraded high-quality videos and high-recognition celebrities onto a spotlit stage before a crowd that we roughly counted at about 300.
The second (presumably annual) event was targeted to the buy side — advertisers and agency audio specialists interested in podcasts as marketing vehicles. Some metrics were mixed in to a few presentations, but for the most part the dazzle was about hit shows, new shows, intriguing program ideas, and podcast stars who strode onto the stage for brief interviews.
(As an aside, we hereby bestow an informal award for "Funniest Celebrity Appearance" to three people: Michael Rapaport (host of I Am Rapaport) who ad-libbed with scatological fluency; Adam Carolla (owner of a mighty podcast empire on PodcastOne) who hilariously heckled Norm Pattiz from his panelist chair as Norm was attempting to moderate; and Marc Maron, who spoke for about five minutes with relaxed charm about how he built his advertising business.)
Participating companies were Wondery, Authentic (the advertising division of Podtrac), Midroll, WNYC Studios, HowStuffWorks, Panoply, NPR, ESPN Podcasting, Time Inc., AdLarge, Play.it Podcast Network, and PodcastOne. (Edison Research presented new survey information about how listeners respond to podcast advertisements.)
"I love cursing." That was Ira Glass, when asked by Mark McCrery for one thing that makes podcasts better than terrestrial radio. That was part of an interesting conversation in which Glass detailed how This American Life is produced. Takeaway: He spends most of his time editing (writing, not audio). Glass also noted a key milestone of his program: This American Life now has more listeners (2.4-million) than the broadcast radio show does (2.2-million). While that much time-shifting might be a concern for NPR and its member stations, Glass stated that the online listeners mostly represent new audience, not shifted audience.
"We are all trying things for the first time." That was Andy Bowers, Chief Content Officer of Panoply, Slate's podcast division. His remark pointed to a high level of experimentation now occurring in the category, as producers are coming up with new topics and styles, trying to capture listeners and sponsor dollars.
Many of the numbers quoted by network heads on the IAB stage conveyed a growing mass of listeners. The trouble comes when advertisers think of addressing the entire podcast audience across the networks. That effort is thwarted by non-standard measurement methods, and poor verification of ad campaigns due to the many listening points. We spoke to one network executive who commented that, ideally, podcasting would work more like music services. "When you want to hear Spotify content, you go to Spotify. There's no other way to listen." But the Podcast Upfront resembles TV much more than music. It's about networks shining light on their best and upcoming programs.
At this year's event, bigger in scope and audience than last year's, it was clear that podcasting is maturing fast, and legitimately making a case for media marketing dollars.
---