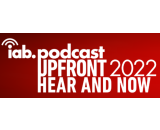 Day 2 of the IAB Podcast Upfront was hosted by actress, author, and comedian Franchesca Ramsey, returning from Day 1 MC'ing duty. She was scheduled to be joined by Brad Mielke, host of ABC Audio's Start Here news podcast, but Ramsey announced first thing that Mielke could not attend as scheduled. (We have reached out to ABC for more info.) Ramsey, looking disconcerted enough to suppose that she might have received the news just before show time, masterfully shepherded the afternoon's events with characteristic beauty and grace.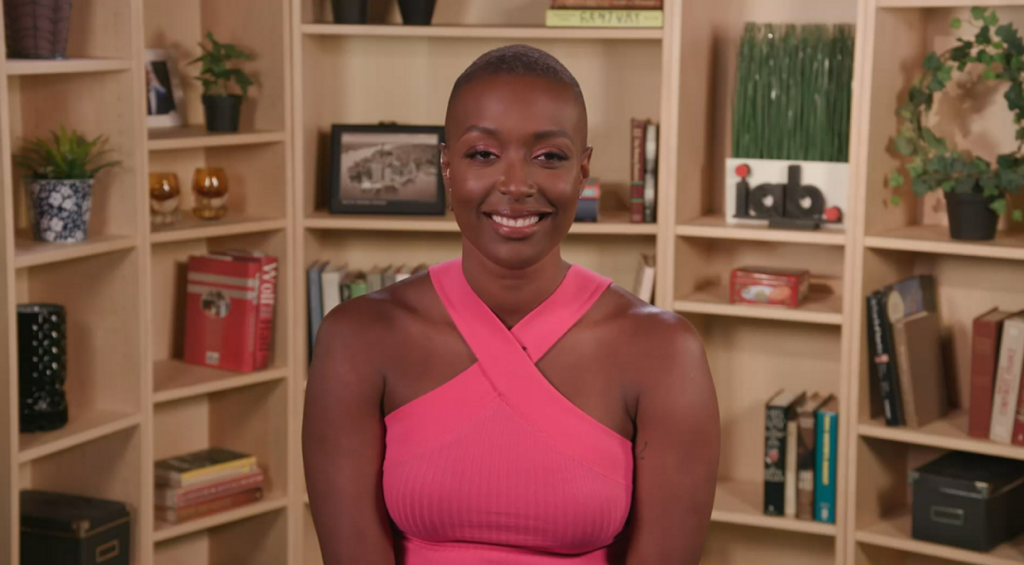 Day 2 featured nine presenters and one discussion panel.
Sony Music Entertainment
The opening segment was hosted by Steve Ackerman (EVP and Co-head of Global Podcasts) and Emily Rasekh (SVP, Podcast Business Development and Operations). It started with an effective tribute to audio generally — the accompanying visual was just a pair of talking lips. We also watched a sizzle reel of several Sony shows.
Emily Rasekh (SVP, Podcast Business Development and Operations) pitched a full suite of marketing values to her trade audience, including a promise to work with whichever favored attribution company the client prefers.
Interestingly for an advertiser-directed event, Sony presented its success with podcast subscriptions — three of them are among Apple's top-10 subscriptions — normally an ad-free listening experience. ("Proving listeners are happy to make room in their budgets" for subscriptions, we were told.)
A brief blooper reel gave the audience a chuckle at the end.
Slate
Slate's presentation made a singular statement of its positioning in the field: "Content at the center of today's most important issues."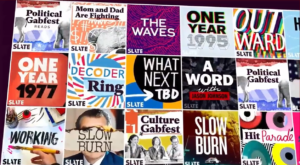 President and CRO Charlie Kammerer made this interesting statement: "It's getting harder to find clients that embrace the personalized host read." Throughout the Podcast Upfront, especially during Day 2, the competing values of live host-read messages baked into the show, and dynamically inserted messages (either host-read or announcer-read) were discussed.
Interestingly, Slate announced that it was doubling the cadence of some of the network's most popular shows, from 1x per week to 2x per week.
Branded audio was significantly discussed, offering a break from the traditional spot-based advertising focus of the Upfront. "Branded audio comes in many forms, and all of them work," we heard. "And contrary to popular belief, it doesn't have to cost a million dollars." Slate introduced a shorter-form branded podcast conception: Branded Mini Features. A Nielsen study showed that Branded Mini Features resulted in better purchase lift and other values, we were told.
Slate also trumpeted a brand new product: Audio Graphics. It appeared to be a video clip service for podcast promotion on social platforms, not unlike the Headliner social video platform. We imagine Slate clients would receive substantial creativity service not usually available in self-serve video creation platforms.
---
PANEL: Podcasting's Mainstream Moment
This was a 25-minute discussion panel about where podcasting stands in relation to more established digital marketing categories. The speakers: Gary Coichy (Founder/CEO, POD Digital Media) / Ken Lagana (EVP Digital Sales, Audacy) / Matt Shapo (Director, Digital Audio and Video, IAB) / Andre Swanston (SVP, Media and Entertainment Vertical, TransUnion)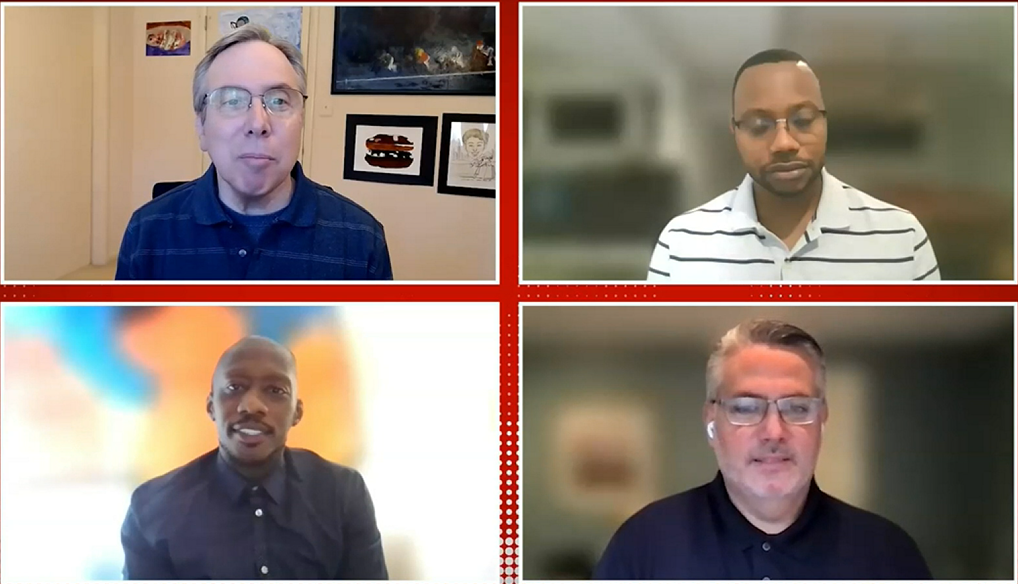 Unsurprisingly, the panelists were unanimously upbeat and declarative about podcasting's maturity. At the same time they were realistic about progress and education needed to fulfill the mainstream expectations of major advertisers running multi-channel campaigns.
Following is an assortment of quotes from each of the three main speakers. (Matt Shapo served as moderator.)
KEN LAGANA: "The content diversity across podcasting could not be stronger." "The measurement and attribution couldn't be better." Being able to target demographics and psychographics was new at the time. They gave brands a secure feeling about spending, because it was similar to other categories." "A combination of different tactics is what we recommend to clients."
ANDRE SWANSTON: "Smart speakers and smart TVs are increasingly platforms for audio listening." "[It's important to have] a consistent data strategy […] across search, social, TV, and audio."
GARY COICHY: "Democratization of audiences is moving the needle." "Podcasting is no longer a stepchild in the corner of the room. It has a seat at the table." "For the P&Gs of the world, we're not using discount codes. We're using brand lift studies." "We're starting to steer away from 15- and 30-second midrolls. We're creating special 2-minute experiences."
During the conversation Gary Coichy evangelized the pure host-read, baked-in advertisement for the best listener experience and advertiser result. Regarding dynamic ad insertion he said "We're not there yet." One of the other panelists teased, "You'll get there," to general amusement.
---
AdsWizz
Anne Frisbie (SVP, Global Partnerships and Business Development) hosted this session. to some extent she spoke on behalf of AdsWizz parent company Sirius XM, whose SXM Media presentation followed this one.
The key promoted asset for AdsWizz was the latest Podcast Trends Report, issued this week. RAIN News will publish our examination of this important study this week. In the meantime anyone can download it (in exchange for some info) HERE.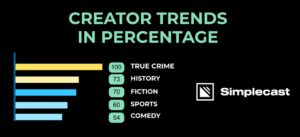 When it came to the reach and influence of AdsWizz, Anne Frisbie's message was simple: "We power the majority of podcast ads heard today in the U.S." She also promoted her company's Simplecast podcast hosting unit.
Just as we thought AdsWizz was wrapping up, out came another promotion: The company's AI transcription technology to increase brand safety. The tech has been under development at SXM for nearly a year. AdsWizz is collaborating with the IAB to work out ways that this initiative can help the podcast industry.
SXM Media
This behemoth media network, representing all the native and acquired audio inventory of Sirius XM, gave credit to the long cumulative history of its acquisitions, resulting in what SXM calls "the most diverse podcast slate." An unvoiced sizzle reel flew through a ton of awards and show highlights.
Conan O'Brien was the headline star of this segment. His podcastast, Conan O'Brien Needs a Friend, was brought into SXM Media via the Stitcher/Earwolf acquisition.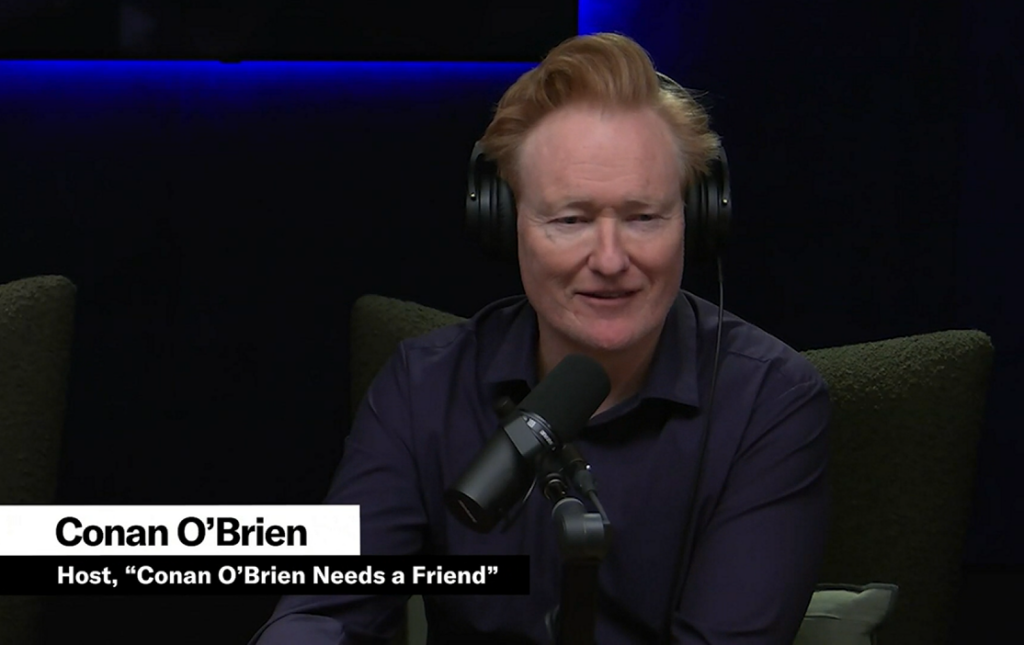 Lizzie Widhelm took the virtual stage to rattle off many collaborations and programming ventures. "These partnerships have catapulted SXM Media to the top of the charts," she said, citing the Edison Research Podcast Consumer Tracking Report, which uses a survey method to measure show reach — that method can include any podcast, unlike technical measurement which normally includes only clients of the measuring company.
The session wrapped with a lengthy montage of hosts saying a few words about their shows. Surprisingly, just a handful of podcasts were represented … several times each in rotation. The sequence weirdly gave the impression that the juggernaut SXM Media is a small and boutique network.
Again, the Podcast Trends Report can be accessed HERE.
Cumulus Podcast Network
Cumulus avoided a lengthy technology or company values pitch to the IAB's audience of buyers. After a relatively brief discussion about how the network was formed — the rebrand from Westwood One Podcast Network to Cumulus Podcast Network — and a key metric (100-million downloads a month), the segment's longer portion comprised interviews in which Suzy Shuster (Host, Just Getting Started with Suzy Shuster) interviewed prominent Cumulus podcasters. Charlie Sykes (The Bulwark), Rich Eisen (The Rich Eisen Show), Jack Barsky (The Agent) all took the video stage.
President, Westwood One and EVP, Corporate Marketing Suzanne Grimes ended the segment with a brief callout to Cumulus's news/talk lineup, which is arguably the backbone of the podcast business for Cumulus. Top personalities include Ben Shapiro and Dan Bongino.
Vox Media Podcast Network
Nilay Patel, Editor-in-Chief of The Verge, a flagship media site in Vox Media, hosted this segment for the company's podcast network. Patel has the cred, having started The Verge's podcast Vergecast over 10 years ago.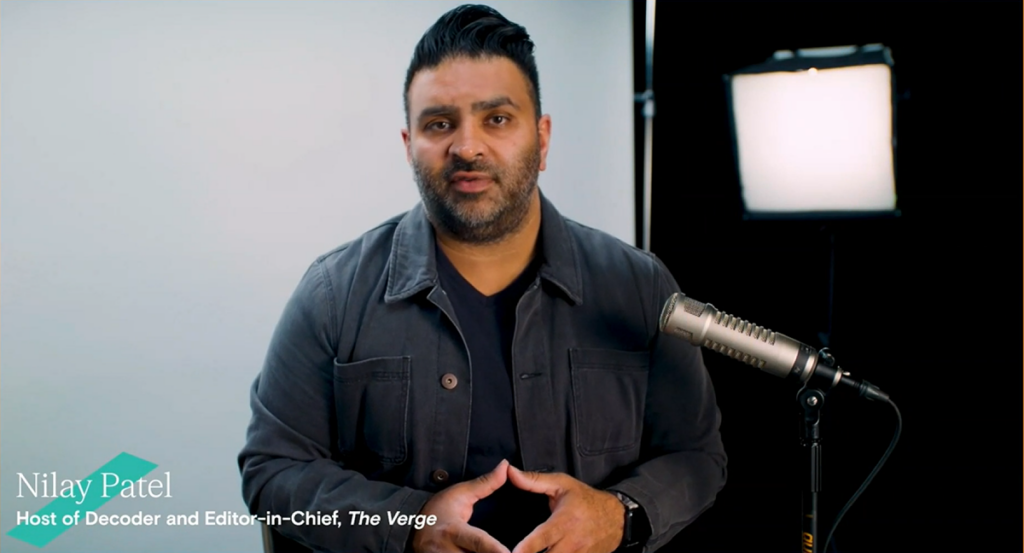 Quick growth of the network was a key talking point. Patel noted AdsWeek's commendation of "hottest in podcasts" for 2021.
"It's never been a more exciting time," he noted. "We've expanded our reach across every content category. And nearly doubled our monthly downloads and unique audience in the last year."
"Other networks may chase celebrities, but we chase expertise." –Nilay Patel
After brief conversations with a couple of Vox podcasters, Vox put a clear focus on Today Explained, the network's daily afternoon news program. The recent addition of Noel King as co-host with founding host Sean Rameswarem were Patel's guest to explain the exponential rising valueof expanding the host lineup, and to discuss whether the show has changed. (The same but better was the unsurprising reply.) There was also an announcement that Today Explained will be syndicated to public radio.
Locked On
"Think of us as a podcast home field for major sports."
That's the self-identifying position statement of Locked On, represented in this session as "the biggest local sports podcast network in the country."
Locked on's Upfront pitch, delivered with nonstop high-energy motion, is "local passion at national scale." That's an attractive umbrella for marketers looking for local targeting or national scope. The network is doubling down on the concept with a new venture announced today: "Locked On Sports for Hometown Fans" — it's a portfolio of daily podcasts for local sports teams.
The presenters emphasized brand safety in this session — "across the whole network," and hinted at topical targeting flexibility: "Choose one sport or tackle them all."
Continuing with sport metaphors, we heard, "Advertising with Locked On is a slam dunk."
Kast Media
"Premium narrative storytelling" is how Kast Media characterizes its portfolio. We were told that all its shows earn a 4.8+ Apple review ranking.
There was an announcement of a crime show called Vigilante, and another cold case podcast about teenage girls lost in Panama.
A simulcast distribution strategy was emphasized — "A monetization strategy across audio and video helped us grow quickly."
A brisk and amusing video segment was performed by Cody Johnston and Katy Stoll, co-hosts of Some More News.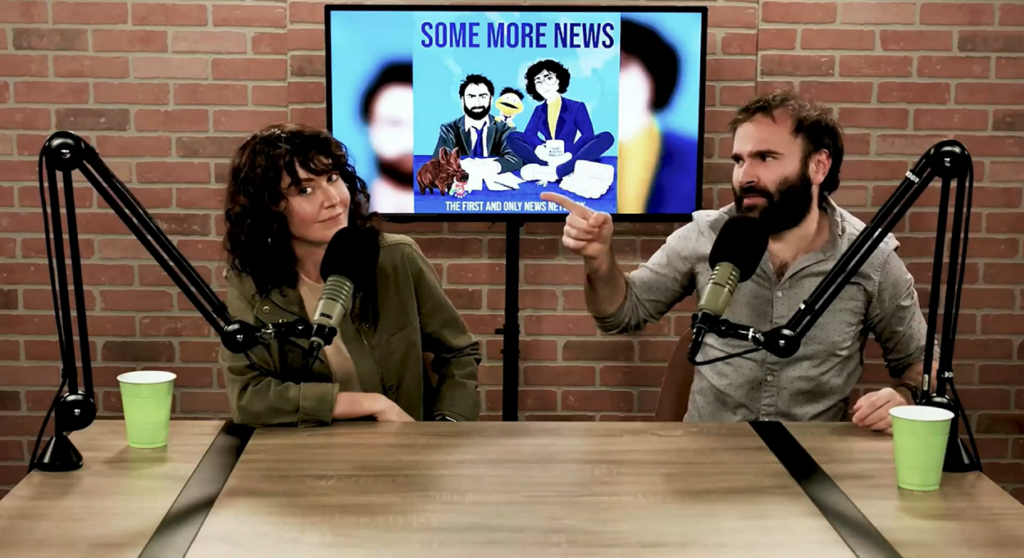 LSN
The Loud Speakers Network was founded in 2013, and provides what the company says is "addictive audio content to underserved audiences" The company's success disproves an early prediction the founders face: "There will never be an audience for black audiences."
The network served 70-million listeners in 2021 — over 70% African American, and over 50% women.
Presenters Chris Morrow and Dustin Ross described the content strategy: "A real premium on authentic and unapologetic content. Listeners known that when it's an LSN podcast, it's going to be authentic."
During the presentation the presenters made a callout to Bevel grooming products, citing a Bevel marketing executive as saying the campaigns "exceeded expectations."
LSN does quite a bit of branded podcast work, and from the sound of it, intends to double down on that category. "We are "Looking to do so much more in the branded space. There has to be trust between the audience and the show." Insurance company State Farm is an existing and repeat client.
.