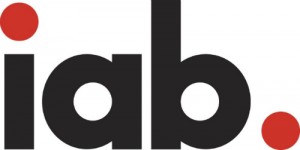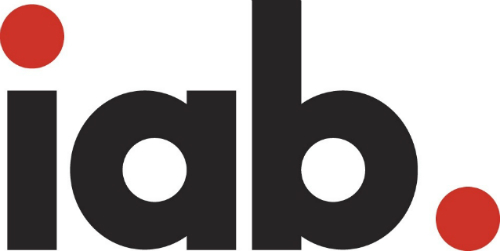 In one of the most important days of the year for the podcast industry, the Interactive Advertising Bureau (IAB) released its annual Podcast Revenue Report, produced in collaboration with PwC.
Revenue Projection
Among many vital measurements and forecasts we've come to expect in this annual piece of research, the headline projection is when podcasting will earn one-billion dollars in ad revenue. COVID interrupted past projections. In this year's report, IAB/PwC predicts that the threshold $1B number will be surpassed this year. And … $2B in 2023
There is context around that projection. As we can see in the graph below, the pace of growth was substantially reduced in 2020, not surprisingly.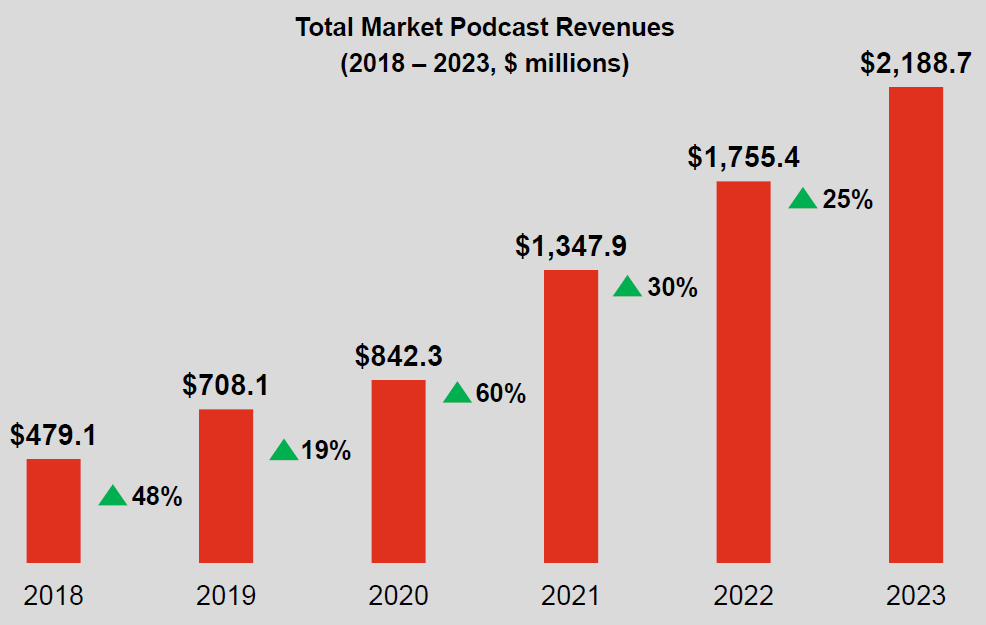 The percentage revenue growth dropped from 48% (2018-2019) to 19% (2019-2020). As we proceed through 2021, this report forecasts a whopping improvement to 60% gain from 2020 — three times the growth represented in the previous year. After that, the expectation is slowed year-over-year revenue growth into 2022 (30%) and 2023 (25%).
In the executive summary of the report document, we see this point: "Podcasting spiked during the COVID-19 pandemic, in audience size, in content offers, and in ad buyer interest and investment." We don't see a 2020 spike of buyer investment in the graph above. But in the following chart we do see accelerating revenue growth, quarter-over-quarter in 2020:

Ad and Campaign Types
We are always interested to see how podcast advertising evolves in it content, delivery mechanisms, and types of pricing.
One historical tug-of-war is between baked-in ads and dynamically inserted ads. The baked-in method is usually represented by live host reads, the traditional podcast sponsor message which leverages the classic host/listener relationship (the famous "intimacy" which is invoked dozens of times in the IAB Podcast Upfront this week). Dynamically inserted ads are necessarily pre-recorded, and can be either host performances or studio productions supplied by the advertiser.
In 2020, for the first time, dynamic insertion took over the majority of campaigns — by a lot!

As a counterpoint to the takeover of dynamically inserted ads, it is host-read ads which deliver the most revenue. The graphic below doesn't specify that the host-read revenue category represents only baked-in performances (that is to say, excluding pre-recorded host-read ads). But the takeaway here is that the host's voice and sense of personal endorsement still captures most of the money. However — pointedly, that number is sliding down fast (from 66% in 2019):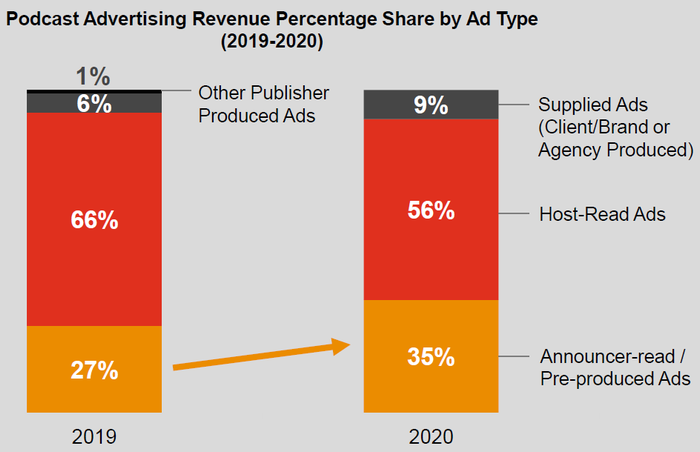 Three more points about ad buys:
A plurality of ads are purchased annually (42%) but that number is dropping, while remnant/transactional/scattered buys are growing.
Most podcast campaigns are acquired on a CPM (cost per thousand) basis, and that number is growing aggressively — 93% in 2020.
Meanwhile, ownership of entire podcast series dipped from 10% to 5% year-over-year.
Brand awareness ads are approaching parity with Direct Response ads — the latter being podcasting's traditional bread-and-butter. In 2020 Direct Response owned 51% of campaigns, while brand awareness grabbed 45%.
.