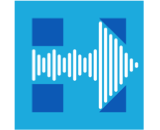 Hillary Clinton is co-hosting a podcast which purports to describe life on the presidential campaign trail. The With Her show will include conversations not just with the candidate, but with other key members of her team, from running mate Tim Kaine to supporters and staffers.
The first episode has been released (and is embedded below) — the show website hasn't specified what the regular schedule will be, or whether it will have an update schedule. After all, Clinton is probably rather busy.
The show is informal, chatty, and seeks to convey authenticity, from Clinton's behind-the-scenes revelations to her surprising vocal fry that is apparent (as with many other podcasters) in a close-mic situation. That observation might sound critical, but is also an indicator that the candidate is adopting the relaxed and personal style that podcasting is famous for.
The show is co-hosted by Max Linsky, one of the leaders of Pineapple Street Media and co-founder of Longform.com. He, too, settles into the cozy conversation space with a production style that favors informality. The first thing we hear in the launch episode is Linksy saying "Uhhhh…"
The project is interesting, notwithstanding whatever electoral gains the Clinton campaign enjoys from this method of distributing its message. It's like a real-time version of Candidate Confessional, a popular Huffington Post podcast in which former candidates and campaign managers reflect candidly on past campaign efforts.
Listen to With Her below: