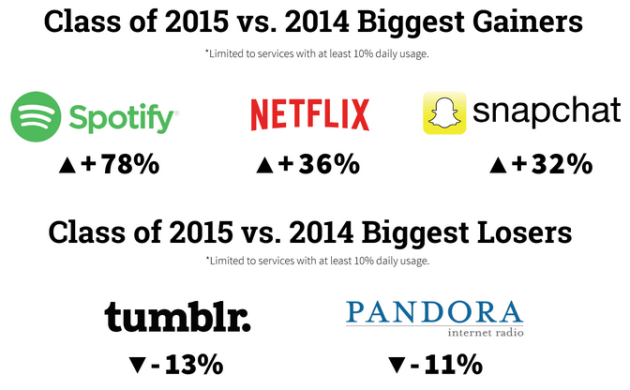 Research company Niche, which was started by Carnegie Mellon University students 12 years ago, has released its annual survey of media usage among high school graduates. The survey collected responses from 10,000 members of the 2015 graduating high school class. Results are presented in an infographic.
The study compares 2015 results with the 2014 graduating class. Through that lens, Spotify is a big gainer, with 78% more usage year-over-year. Pandora suffered a decline of 11% usage during the comparison period. However, Pandora remains the most popular platform in the Music Sites and Apps section, with 74% usage and 33% daily usage. To compare, 48% of respondents have used Spotify, and 24% use it daily.
iTunes registered highly in study results, with 64% use and 30% daily use. iTunes is a broad platform that includes the music download store and iTunes Radio.
Among all media platforms examined in this survey (which include social platforms), YouTube is the big winner, with a sample reach that exceeds radio's reported reach in Nielsen's latest Total Audience report. Niche found that 95% of respondents have used YouTube, and 54% use it daily — a small notch below the 97% reach in 2014, and far exceeding Facebook. (YouTube use is not restricted to music content.)