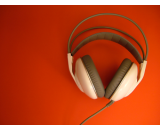 A collective of record labels, streaming platforms, and advocacy organizations leveraged the CES spotlight to announce a commitment to high-resolution (hi-res) audio streaming. The loosely articulated mission continues an industry trend whose mileposts have been as varied as Neil Young's Pono venture, Tidal's hi-res streaming subscription service, and the small but notable resurgence of vinyl records.
All three major label groups (Universal, Sony, Warner) are on board the alliance organized by the Digital Entertainment Group (DEG), a support and advocacy group for entertainment platforms and consumer products. The Recording Industry Association of America (RIAA) took part in the announcement also — that is the lobbying group for the U.S. recording industry generally.
Pandora and Napster (formerly Rhapsody) are in. Spotify and Apple Music are not publicly joining at this stage.
"Universal Music has been laser-focused on Hi-Res Audio, across all of our label groups," said Ty Roberts, Chief Technology Officer of Universal Music Group, in a statement. "But without the involvement of our technology and distribution partners, all of this would be in vain. Today we're pleased to acknowledge the support of a number of leading digital providers for this new streaming concept."
Aside from expressions of support for hi-res in principle, no projects, standards, or timelines were disclosed.
Chris Martin, CTO at Pandora, noted that hi-res music could have an additive effect on his business: "While not for everyone, Hi-Res music streaming has the potential to engage millions of digital music fans who are seeking a more immersive, studio quality listening experience."
The resolution of music playback has suffered over and over as portability became possible, and proved an attractive priority for consumers. With the digitization of music files, severe compression conveniently shrank their size, making them even more portable. The MP3 era was born in a confluence of small files, high-speed residential bandwidth for downloading, storing, and sharing, and small portable MP3 players that could hold thousands of tracks. Music streaming was built on the foundation of compressed files.
Along with file degradation, which the hi-res movement seeks to correct, consumers use low-res equipment for listening. The weakest link in the audio chain for many people is the headset. Final audio output is only as good as the weakest link, in all cases — that is why many consumers cannot hear a difference between truly high resolution and what might be called "good resolution" available on most platforms now.
All this notwithstanding, a general industry commitment to create a hi-res audio chain and make it available (even at a higher price point as with Tidal, which charges twice as much for that service), seems altogether good. Ideally, all listeners should be well served by the convenience of streaming.