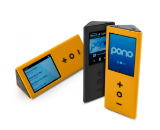 The first rumblings of skepticism about Pono Music and its promised revolution in sound quality emerged last month, and since then the critics have become more visible and more vocal. Professional musician and journalist David Pogue is the latest to turn his ear to the question of how much different hi-def listening can really offer. In the interest of science, he conducted a blind experiment.
He had 15 listeners listen to three different songs on the Pono Player and the iPhone, both on top-notch headphones and cheap earbuds. No matter which headphones they used, the subjects expressed preference for the iPhone playback. Pogue himself tried the comparison and couldn't hear a difference.
His assessment was that many of the more dramatic reactions to Pono as vastly superior came from comparisons with low-resolution MP3s, but the music files made available through the iTunes Store and other digital music stores are of a higher quality than original MP3s.
We at RAIN had a similar reaction in our review of Tidal, a hi-fi streaming service. The difference is slight, just as Pogue's subjects found. Our reader poll from last year also pointed to some of the key factors that make Pono less appealing: the role of headphones over bitrates in quality, and the portability for on-the-go listening. Especially when coupled with the large, expensive player and the large, expensive task of repurchasing an entire music library, it seems that Pono may not be worth it for the average listener.