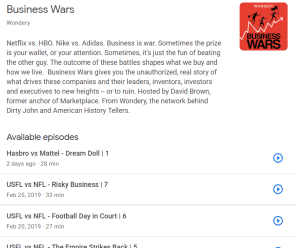 Thanks to Podnews.net we learned that Google Podcasts now has a web-app presence in addition to its fuller-featured Android app. The experience is rudimentary for sure, and going to what might be considered its homepage does nothing more than promote the Android version.
But there is a deeper layer of functionality that kicks in when a producer links to the web app for playback. Here, for example, is Wondery's Business Wars within the web experience. In this way, Google's ultra-soft launch is mainly (or perhaps only) a web player. None of the mobile app's more advanced features (podcast collecting and downloading, for example) seem to exist yet.
Podnews editor James Cridland does note (from 9to5Google) that the new experience tracks stopping points and syncs with listening on Google's Assistant line of smart speakers and voice-control — so you could start listening on the web and continue on your Assistant-powered phone, or Google Home device. This Netflix-like bookkeeping is a strength of the Assistant platform generally.