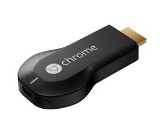 Google announced that it will give U.S. Chromecast users a 90-day free trial subscription to the All Access Music service. The subscription streaming platform usually costs $9.99. Google is offering the free deal through September.
Chromecast has been out for a year now, and it's Google's method of getting streaming media from mobile devices to a television screen. Several services, including Pandora, Beats Music, and Rdio, have added support for Chromecast.
For many subscription services, in music and beyond, it's common to offer a free trial to show off everything the customer would get. Usually, All Access has a free trial of just 30 days, so the tie-in with Chromecast is a significantly better chance to explore both the music program and the gadget. Especially when so many competing services are making themselves available on the Google hardware, having such a long period of free use could secure All Access membership from more Chromecast users.