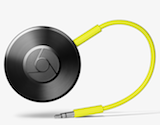 Google has discontinued the Chromecast Audio. A representative from Google confirmed that the specialized device, which streams audio from a mobile device or PC to a home speaker, will no longer be produced. However, Google will continue to provide support for Chromecast Audio owners.
"Our product portfolio continues to evolve, and now we have a variety of products for users to enjoy audio," the rep said. "We have therefore stopped manufacturing our Chromecast Audio products. We will continue to offer assistance for Chromecast Audio devices, so users can continue to enjoy their music, podcasts and more."
The Chromecast Audio debuted in September 2015 with support for Pandora, Rdio, Spotify, and Google Play Music. As the rep noted, Google and other hardware companies have many solutions for getting audio content available. With smart speakers and smart TVs often able to play music or podcasts either from other devices over wireless signals or directly from their own apps, the need for an additional product is diminished.