Googl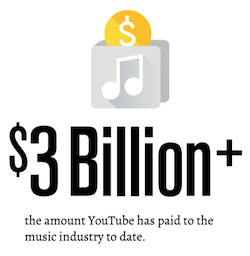 e has released its annual piracy report. The analysis highlights YouTube's role both with the still-growing creator community and to the music industry. It is also well-timed as a response to the label and artist critiques that YouTube doesn't do enough for the industry.
The entire YouTube platform has paid more than $3 billion to the music industry to date. It also shared that Content ID has generated more than $2 billion for partners since its launch in 2007. Content ID, its system for identifying copyright material and informing rightsholders, was a central focus of the piracy report. It found that more than 98% of copyright issues on YouTube are resolved through Content ID, and that spikes to 99.5% for audio copyright questions. Google added that the music industry generates half of its YouTube revenue through monetizing fan uploads with Content ID.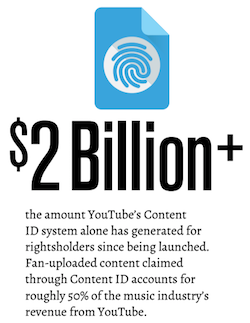 "Each time a music fan chooses YouTube over an unauthorized source for music, it's a victory against piracy," the report reads. The report also laid out its educational offerings for informing users about copyright and its policies for handling repeat offenders.
YouTube has been a lightning rod for criticism among labels and artists, who argue that the video platform doesn't make payments to the industry in scale with its viewership. They also criticize the existing Content ID system for not putting enough power into protecting copyrights, since the rightsholder needs to exercise constant vigilance against infringements.