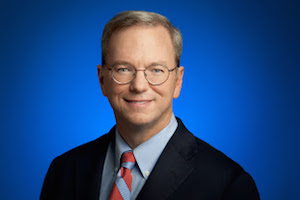 Eric Schmidt, executive chairman of Alphabet (the tech giant formerly known as Google), penned an article for BBC about artificial intelligence technology and how it might develop. The piece is mostly a surface discussion of this very complex technology, but it did pointedly touch on the role of AI in the music industry.
Schmidt said that ten years ago, a burgeoning online music service would need to have a staff of music experts to make all the programming choices and seek out new artists. "Today, you're much better off building a smart system that can learn from the real world – what actual listeners are most likely to like next – and help you predict who and where the next Adele might be," he wrote. He closed with a dig at Apple Music and other services that use the tastemaker approach to their curation. He said the AI and algorithm path is "a much less elitist taste-making process – much more democratic – allowing everyone to discover the next big star through our own collective tastes and not through the individual preferences of a select few."
With all the hype services often try to create around the skills and savvy of their curation teams, it's interesting to see the response from the leaders of the algorithm camp. Both methods have their pros and cons, and at this stage in online music's development, neither one has emerged as a clear industry favorite. Considering how well they complement each other and address people's different listening needs, hopefully that doesn't change.