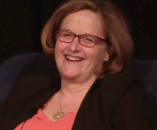 Ginny Morris, CEO and Chair of Hubbard Radio, faced a surprise audience question during her appearance as keynote speaker of RAIN Summit West yesterday. During a Q&A session, Paul Heine of Inside Radio queried Morris on whether her company would take an interest in buying CBS Radio properties. CBS has recently expressed its intent to divest itself of the radio business. Early rumors have surfaced speculating on where the CBS stations might land.
"We'd be very interested in all of them, but we can't afford any of them," Ginny Morris said. She went on to definitely squelch the idea. "There is no truth to the rumor that we're in talks to buy CBS [radio]. It's way too big a swing for us."
The lighthearted Q&A followed a conversational portion with Paul Jacobs, VP of Jacobs Media. Before that, Morris presented slides which reviewed the history (TV ad radio) of her company, and touched on Hubbard's 30% equity investment in PodcastOne. She described a circle of promotion whereby Hubbard station segments are promoted on popular podcasts, driving users back to the station.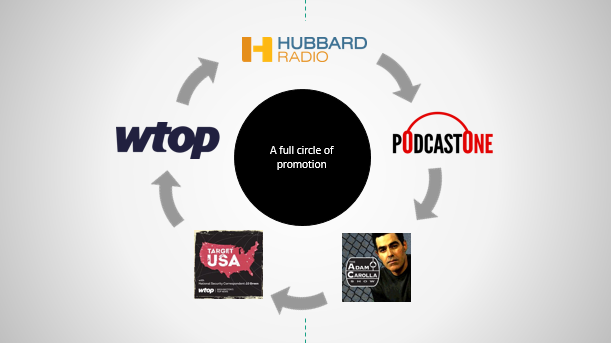 In her discussion with Paul Jacobs, Morris expressed confidence in the future, and although she couldn't predict the payback on her investment with PodcastOne, she said her company had a ringside seat in seeing the future unfold. Digital nickels will turn into dollars, she said. Only one worry threatens to keep her up at night, and that is self-driving cars. "We can't take for granted the incumbency of radio in the car," Morris observed.
In a clever demonstration of the Shazam for Radio platform, Ginny Morris' presentation included an audio segment, which, when Shazam'd, led to a contest entry form. The two quickest entrants won Bose headphones to take home.
RAIN Summit West took place in collaboration with the NAB Show in Las Vegas.