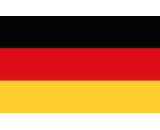 Germany's music sector posted gains from streaming and sales in the first half of 2015, according to a report by the Federal Music Industry Association (BVMI). Streaming services now account for 12.8% of the country's music revenue, up from 7.7% in the first half of 2014. "The 87 percent increase in music streaming even exceeds the forecast contained in the streaming study we published back in March," the group's managing director Dr. Florian Drücke said.
Revenue across physical and digital sales totaled €686 million for the first half of the year. The market for downloaded music increased 3.2%, accounting for about a third of revenue. CD sales dropped 3.3%, but vinyl sales rose 33$.
"Digital business is the driving force in the German market, said Philip Ginthör, CEO of Sony Music GSA and a member of BVMI's board. "The music industry will achieve sustainable growth if we continue to focus on investing in talent and fair digital revenue models."
The 2014 results for Germany showed a strong preference for CDs, and the decline in those sales is less than other nations have reported. BVMI reported in March that the country has 2.5 million premium streaming subscribers out of 11.6 million total streaming listeners.