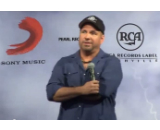 Garth Brooks has been recognized by SoundExchange as the first country artist to secure more than 1 billion streams on digital radio. The achievement means that Brooks received the SoundExchange Digital Radio Award for his popularity across digital radio. The play counts come from more than 2,500 digital radio services, including satellite.
"Reaching one billion performances is a rarified accomplishment, and it's not surprising that Garth Brooks is among the first artists to be recognized with the SoundExchange Digital Radio Award for achieving this significant milestone," SoundExchange CEO Michael Huppe said.
Brooks has a long history of avoiding mainstream digital platforms. He was a long-time holdout from the iTunes store and he only appears on Spotify as a contributor to compilation albums. Brooks even launched his own digital music store called GhostTunes intended to offer musicians more control over their online sales.