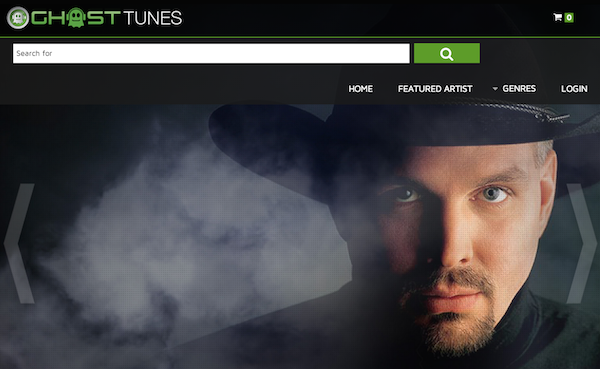 Country sensation Garth Brooks took his first baby step into the digital realm in July, but today he announced the beta launch of an entirely new online music service. It's called GhostTunes.com.
The focus with this platform is control for the musicians. Artists selling on GhostTunes.com can opt to sell any configuration of full albums or singles that they choose, and the press release implies that special offerings and collaborations between the service and the musicians will happen regularly. The first big artist collaboration is, of course, with Brooks himself. He's selling his entire back catalog of studio albums, a live DVD/CD package, and his new album for $29.99. Quite the bundle.
Listeners will also have several options. All the music bought by a member goes to their personal 'locker' on the site. The cloud-based lockers let listeners stream those bought tunes directly on the site. But the purchases do come with download links, and the music can be sent to any audio player on a computer or mobile device.
Considering how similar the basics of GhostTunes.com are to iTunes, it'll be interesting to see how well this new store can compete with the more established platforms. For now, the catalog seems a little light, with a focus on well-known performers across the various genres.The singles seem to be uniformly priced at $1.29, while most albums range from $8-$15 — pretty comparable to the Apple pricing. Since it's still in beta, we'll have some time to watch which artists support this business model and jump on board the upstart store. And just as importantly, how many listeners will find this particular mix of purchases, streaming, and downloads appealing enough to make it their service of choice?